Here is your chance to own the outfits worn by David and Victoria Beckham to the Royal Wedding!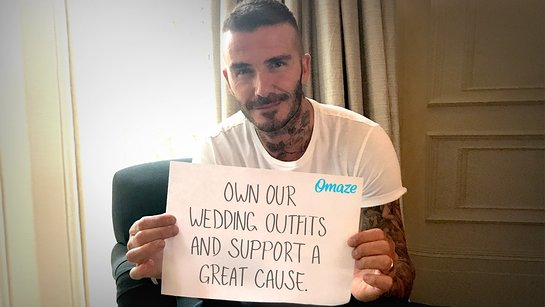 omaze.com is giving you the unique opportunity to win the clothes worn by the Beckhams, and all you have to do is donate to the We Love Manchester Emergency Fund. The more you donate, the more chances you have to win.
Style icon David Beckham was the first man to step out in Dior Homme designed by Kim Jones — and now it could be all yours. Your dapper charcoal grey morning suit has "DB" sewn on the inside (just in case you forget who it used to belong to). It's also paired with a light grey double-breasted waistcoat, Egyptian cotton poplin shirt, grey silk satin tie and black calfskin leather derbies. Victoria looked incredible wearing your new navy midi dress with a belted neck and split sleeves from her upcoming Pre-Spring/Summer 2019 collection. Maybe you'll wear them to your own wedding. Maybe you'll just never take them off. Whatever you decide to do with these beautiful outfits is up to you.
The We Love Manchester Emergency Fund was established shortly after the bombing of the Manchester Arena just over a year ago. Donations to the fund help relieve the financial needs among the victims and survivors of the disaster, including the families and dependents of those killed or injured in the events. As time passes and people around the world show their love, support and solidarity, the Manchester community continues to grow stronger.
To find out more, visit omaze.com.