This week, the Alliance for Women in Media Foundation (AWMF) presented the 43rd Annual Gracie Awards at a luncheon at Cipriani 42nd Street in New York City.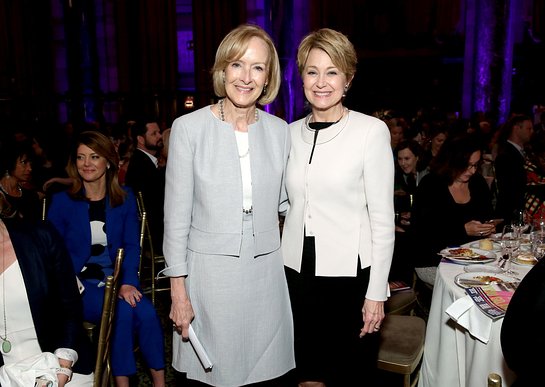 Host Erica Hill of CNN led the program alongside presenters Pam Oliver from FOX Sports; multimedia host, actress and author Angie Martinez; April Ryan of American Urban Radio Networks and CNN; and Larry Mullins from Entercom's 1010 WINS. The Gracie Awards were presented to honorees which were previously announced in recognition of individual achievement and outstanding programming by, for and about women in local and student TV, radio and interactive media.
Highlights from the show included:
AWMF Board Chair and Katz Radio Group President Christine Travaglini opened the Luncheon. After welcoming the record-breaking crowd, she introduced AWM Board Treasurer and Gracies Co-Chair Heather Cohen, executive vice president of The Weiss Agency.
Lifetime Achievement Honoree Judy Woodruff, anchor and managing editor of the PBS NewsHour, was presented her award by last year's Honoree Jane Pauley, who said, "There should be no more exalted role in society than the role of journalists. When that ceases to be, we will no longer rightfully call ourselves a free society. Judy Woodruff deserves recognition for lifetime as much as anyone I can think of. Furthermore, she has earned it." When accepting the award, Woodruff captivated the audience and spoke strongly with regard to women in media, "We have come a long way, but we still have work to do. We need more women in decision-making jobs, more women doing the hiring, more women deciding which stories get covered, and more women reaching out to bring along younger women like the remarkable women we are seeing here today."
Erica Hill, CNN anchor and correspondent, hosted the awards. Hill has a rich history with the Gracie Awards as the 2015 honoree for Outstanding Correspondent. When presenting the awards for outstanding work in Local Market Television, Hill said, "Local markets are more important today than ever as newsrooms shrink, and newspapers are shuttered. Local reporters hold officials accountable – they tell the stories that matter in the moment. They get to the heart of the issues. They inform, they educate, and they help."
2018 Billboard Artist-to-Watch Country Singer Jessie Chris performed and spoke about her passion as an anti-bullying advocate. Chris, the victim of extreme bullying as a student, is an anti-bullying advocate who has supported the Ad Council's #BeMore Campaign and Disney's #ChooseKindness campaign.
Presenter Larry Mullins from Entercom's 1010 WINS was a lively presenter who not only spoke, but also sang, "We talk about the Oprahs, we talk about the Barbara Walters, we talk about the Judy Blumes, Jane Pauley, and so many others that I've seen here today, and then it goes all the way to the Shonda Rhimes. Sisters your day has come. Your day is now!"
The National Gracie Award honorees were recognized at the Gracies Gala, May 22, at The Beverly Wilshire in Beverly Hills. Again, a full list of recipients may be found on the Alliance for Women in Media website.