The 48th Annual Gracie Awards, presented by the Alliance for Women in Media Foundation (AWMF), illuminated the night with an extraordinary celebration of women in media held at the Beverly Wilshire Hotel.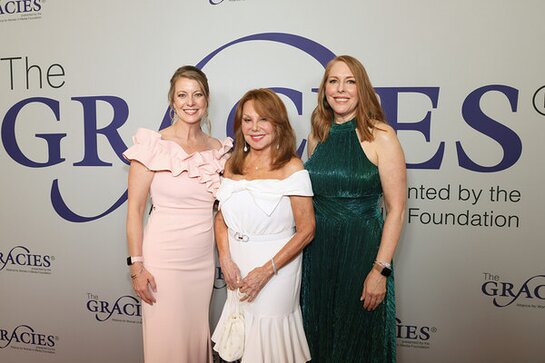 The evening honored the exceptional talent that have left an indelible mark on the industry, inspiring audiences, and revolutionizing storytelling.
Inside the gala, a powerful atmosphere prevailed, showcasing stories of triumph, civil rights activists, and women who are actively shifting culture through their narratives. The winners of this year's Gracie Awards embody the spirit and courage exemplified by Gracie Allen, and they serve as a reminder of the invaluable contributions women make in shaping our media landscape.
Marlo Thomas, renowned for her groundbreaking role as television's first independent single woman in "That Girl" and revered as a Founding Mother of the Ms. Foundation for Women, was honored with the distinguished Lifetime Achievement Award. Tony Thomas, brother of Marlo and an Academy Award nominated television and film producer, presented the award to her.
Additional presenters and attendees included influential figures such as Atsuko Okatsuka, Jodi Balfour, Bishop Briggs, Keltie Knight, Kerri Kasem, Ellen K, Hallie Sahar, Harriet Dyer, Julie Carmen, Lily Moore, Rose McIver, Terri J. Vaughn, Chelsea Gilligan, Sharon Carpenter, and Medalion Rahimi. A special musical performance by 14-time Oscar nominee Diane Warren and Shayna Zaid, enthralled the audience, reminding everyone of the power of music in storytelling. EXTRA's correspondent, Rachel Lindsay, served as the Gracie Awards social media ambassador, and the ceremony was executive produced by Vicangelo Bulluck.
This year's Gracie Awards also shined a spotlight on the incredible achievements of women directors and writers. Their talent and dedication were celebrated, emphasizing the critical roles they play in shaping the cultural landscape through their storytelling.
NOTABLE MOMENTS
Marlo Thomas during her lifetime award acceptance speech said: "All of these memories are nutrition for the soul. And events like this one created by women and recognizing women are our nutrition. You see examples of others who are finding their voices. We hear their dreams and share their stories. They give us life.They give us enthusiasm that we can continue to make new dreams."
Miranda Kwok (The Cleaning Lady), winner of the Writer Scripted – Drama category, said: "I stand here in solidarity with my fellow writers as we fight for fair treatment and compensation and the simple recognition that the soul of a writer cannot be replaced with Artificial Intelligence. As writers, our goal is to enlighten and inspire, to reach hearts and minds, to build compassion and understanding, and to effect change for the betterment of humanity."
Presenter Rachel Lindsay introduced the women directors moment with a powerful tribute, recognizing their vital role in shaping on-screen stories following an unprecedented number of submissions saying, "An interesting fact, most people don't know that women directors were vital to the beginning of cinematic storytelling. But when movies became big business in the 1920's, the male dominated studio system created monopolies that pushed out female and minority led independent film companies."
Michelle Miller (48 Hours: "Katrina Brownlee: The Good Cop"), News Magazine [TV – National] category, said: "I want you to know I'm not old enough to remember Gracie Allen, but I am old enough to remember her husband, George Burns. I remember him telling stories of this incredible woman, his late wife, adoring stories, but also kind of mischievous ones. And I thought she's been dead 20 years, and yet he still talks about her like she's here in this moment. She had to be one heck of a fine lady. One heck of a fine lady. One heck of an extraordinary lady…"
At its core, the Gracie Awards Gala supports AWMF's charitable efforts. As a non-profit organization, AWMF is dedicated to creating educational programs, charitable activities, and scholarship initiatives that benefit women in the media. By investing in these initiatives, AWMF continues to foster growth, empowerment, and leadership opportunities for women across the industry.