Annie Lennox is using her blog to outline some of the hard facts affecting women and girls around the world as part of the #OneReasonWhyImaGlobalFeminist campaign.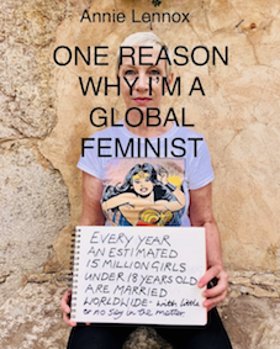 "They are the reasons why I describe myself as a Global Feminist and they are facts that everyone needs to be aware of," she writes. "Here are just three that you might want to choose one from, to write on a piece of paper and have your photo taken, holding it in solidarity with billions of girls and women around the world.
Out of the 757 million adults who cannot read or write – 2 out of 3 of these are women.
60% of all new

HIV

infections in15-24 year olds are adolescent girls and women.
In developing countries, 20,000 girls under the age of 18 give birth every day."
Find out more here.