Gisselle Acevedo, the new President & CEO, Ackerman Institute for the Family, announced today the host and honorees for the 12th Annual Moving Families Forward gala to take place at the JW Marriott Essex House on Monday, October 22nd in New York City.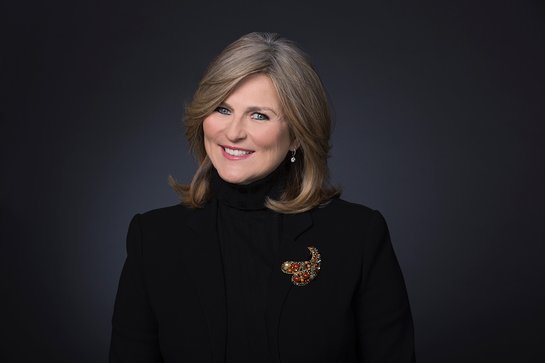 The event benefits the vital programs and ongoing services for children and families at the Ackerman Institute for the Family.
The 2018 honorees will be:
· Cynthia McFadden, Senior legal and investigative correspondent for NBC News, will be honored with the Ackerman Family Advocate Award.
· Lois Braverman, President Emeritus of the Ackerman Institute for the Family, will be honored with the Ackerman Innovative Leadership Award.
· Arnold Syrop, Principal and creative director of Arnold Syrop Architects, will be honored with the Ackerman Distinguished Service Award.
Tamsen Fadal, eleven-time Emmy award-winning Journalist & PIX 11 News Anchor, will return to host the evening.
"I support the Ackerman Institute for the Family because Ackerman therapists know that when one member of the family is in distress, all members of the family suffer," says Tamsen Fadal. "Ackerman believes that family members who truly feel understood by each other develop a kind of resilience that allows them to cope effectively with the complexities of this turbulent world."
"We are thrilled that Tamsen Fadal is returning to host the Moving Families Forward Gala," says Gisselle Acevedo, President & CEO, Ackerman Institute for the Family. "By generously giving of her time and talent to help lead our event to success speaks volumes about her commitment to family mental health. I am grateful to Tamsen for lending her support and celebrity in this way for the fifth consecutive year."
"This year, Ackerman Institute for the Family honors three amazing leaders who have significantly helped families and the challenges which families often face," says Gisselle Acevedo. "Cynthia McFadden's work as one of the world's most respected journalists has shined a media light on a national scale covering key issues including mental health issues affecting families. As the President and CEO of Ackerman for over twelve years, Lois Braverman has provided tireless dedication, leadership and inspiration to this organization. Arnold Syrop is one of America's most respected architects and remains one of Ackerman's most dedicated members of the board of directors."
2018 Moving Families Forward Gala Co-Chairs are Leslie Roberts and Deborah Werner; Honorary Co-Chairs are Martha Fling and Alice K. Netter; Gala Planning Committee is Vicky Kahn, Gisella Lemos, Jeanette Monninger, Emilie Dubois Poteat, and Nicole Poteat.
About The 2018 Honorees
Cynthia McFadden is the senior legal and investigative correspondent for NBC News. Her reporting appears across all platforms of NBC News and MSNBC, including NBC Nightly News with Lester Holt, TODAY, Meet the Press, Dateline, and NBCNews.com.
Since joining NBC News in 2014, McFadden has continued to cover a range of stories across the United States and around the globe as she did for the previous 20 years at ABC News. Known for a diverse portfolio of powerful investigations, her work has won broadcasting's most prestigious awards including the Emmy, duPont, and Peabody as well as a Foreign Press Award. She was honored by the Matrix Award for Broadcasting in 2014, given annually to an exceptional woman in the field.
During her years at ABC News, she worked as both an anchor and correspondent including ten years as the co-anchor of the network's celebrated broadcast, Nightline. McFadden's work has often focused on social issues and human rights abuses both here in the United States and around the world. She has reported extensively on various national security issues as well as mental health issues affecting families.
In addition, she has interviewed a number of world leaders while reporting from a wide variety of international hot spots. McFadden received a bachelor's degree summa cum laude from Bowdoin College and a law degree from Columbia University.
Lois Braverman, LCSW is President Emeritus of the Ackerman Institute for the Family. She was the Institute's fourth president from 2006 to 2018. Ms. Braverman is a highly regarded educator and clinician with over 40 years of experience in the field. Her many publications and international presentations challenge the assumptions implicit in major schools of family therapy about women's role in the family, in the workplace, and in the psychotherapeutic setting. Her special areas of interest have been women's friendships and marital relationships, depression and marital dynamics, motherhood and mothering, and issues of power in family therapy. Currently, her clinical research project is seeing families with a young adult who suffers with serious mental illness. She is founding editor of the Journal of Feminist Family Therapy and author of Women, Feminism and Family Therapy, (The Haworth Press). She was the recipient of the 1994 American Family Therapy Academy's "Innovative Contribution to Family Therapy Award" and the 2012 University of Iowa, College of Arts and Sciences' Distinguished Alumni Award. She maintains a private practice specializing in couple and family therapy.
Arnold Syrop is the principal and creative director of Arnold Syrop Architects and the architect responsible for the design of the Ackerman Institute's new, state-of-the-art training facility in the Flatiron District.
Arnold Syrop's New York based office renders architectural and interior design services to hospitality, corporate, and institutional clients, on a national basis. Clients include Hilton Hotels Corporation, Loews Hotels, World Yacht, Marriott International, Renaissance Hotels, Carlson Industries, The Princeton Club of New York, Millennium Hotels, Universal Studios, The University Club, and the Waldorf Astoria. Arnold Syrop Architects has designed hospitality facilities for major urban clients, including Rockefeller Center, Grand Central Station and Madison Square Garden.
Arnold Syrop Architects have been included in the book "Restaurants That Work – Case Studies of the Best in the Industry", featuring work of the top ten Restaurant Designers in America. "We have been selected as a national finalist in the Gold Key Awards for the best restaurant design of the year and are featured in the book "Hospitality and Restaurant Design 4" published in 2005. Our creative design of the public spaces, lounges and restaurants at the New York Marriott Marquis and Peacock Alley at The Waldorf Astoria have been widely published in professional and industry publications."
Arnold Syrop was raised and educated in New York City. He graduated with Honors from Pratt Institute and was awarded the Dean's Medal in Architecture. He was a Fulbright Scholar in Architecture and worked as a designer with Gordon Bunshaft of Skidmore, Owings and Merrill and with Marcel Breuer, prior to founding Arnold Syrop Architects. He is a member of the Board of Directors of the Ackerman Institute for the Family, the Selz Foundation, and a Fellow of the Culinary Institute of America.
To purchase tickets to the Moving Families Forward Gala call 914-579-1000, email: ackermanGala@BuckleyHallEvents.com, or click here.