On behalf of the Ford Theodore Miller Murphy Family, Emmy-Award winning writer, producer and director Ryan Murphy and his husband, photographer David Miller, have made a landmark $10 million gift to Children's Hospital Los Angeles (CHLA).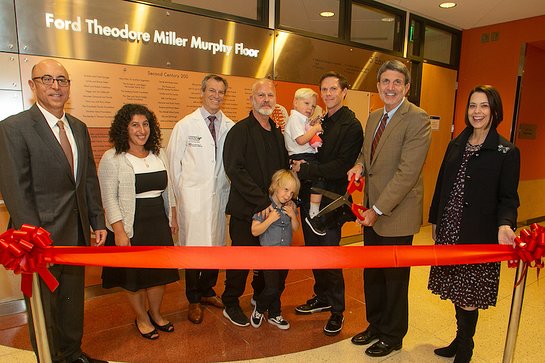 In honor of this incredible gift, CHLA will name the fifth floor of the Marion and John E. Anderson Pavilion the "Ford Theodore Miller Murphy Floor."
"The Miller Murphy family's generosity will help us continue to provide world-class, lifesaving care to the patients we treat," says CHLA President and CEO Paul S. Viviano. "This gift reflects the family's dedication to enhancing the care of children throughout the Los Angeles community."
Funds from this generous gift will be used to support CHLA's continued leadership in surgical oncology, neuroblastoma treatment and groundbreaking research in the hospital's Children's Center for Cancer and Blood Diseases (CCCBD). Specifically, a portion of the funds will be used to name a Chair of Surgical Oncology. The inaugural holder of the new chair will be James Stein, MD, MSc, FACS, FAAP, the hospital's chief medical officer. Additionally, the donation will be used to support an endowment in neuroblastoma care. Miller and Murphy's son, Ford, was treated at CHLA for neuroblastoma, the third most common cancer in children and the second most common solid tumor in children, besides brain tumors.
"David and I, as well as Logan, [the couple's older child], are immensely grateful for the care that CHLA provided not only to Ford, but to us as well," Murphy says. "His cancer diagnosis was one of life's unexpected moments and the team at the hospital provided a comforting atmosphere in the midst of a trying situation."
"CHLA was an obvious choice for us when we learned of Ford's diagnosis," Miller adds. "We needed a support system and their experience with children and parents proved invaluable."
Alexandra Carter, CHLA's senior vice president and chief development officer, says the gift will be allocated to several areas reflecting the family's interest in serving the community.
"We are thrilled the Miller Murphy family is now forever a part of the CHLA family," says Carter. "Ryan Murphy and David Miller have a long and admirable history of championing underserved members of our community. Their values and commitment to help others along with their charitable support align with our hospital's mission to create hope and build healthier futures."
The Ford Theodore Miller Murphy Floor in the Marion and John E. Anderson Pavilion is dedicated to caring for medically and surgically acute patients of all ages. It is a calm and welcoming environment where children can recover from medical treatments or surgery surrounded by family, receive one-on-one care from Child Life specialists and participate in art, music or dance/movement therapy. The floor also features a Child Life playroom and a Creative Oasis room for music and art exploration.
James Stein, CHLA's chief medical officer, has been a surgeon at CHLA since 1996. Nationally renowned, Stein has also participated as a lead surgeon in numerous conjoined twin separation surgeries, procedures that require intense multidisciplinary planning and coordination, and meticulous execution. Stein's extensive experience in the surgical treatment of neuroblastoma and hepatoblastoma, as well as other childhood cancers, has been an integral component of CHLA's successful solid tumor and neuroblastoma programs.
"Dr. Stein and pediatric oncologist Dr. Araz Marachelian of the CCCBD saved our child's life," adds Murphy, "and we shall be forever thankful for that."
The Miller Murphy family's support of neuroblastoma care through an endowment will permit CHLA to dedicate resources to groundbreaking research and lifesaving clinical care, to provide advanced therapies to children and to improve their quality of life after receiving a diagnosis of neuroblastoma.
The family's gift will also benefit CHLA's Children's Center for Cancer and Blood Diseases, a world class program that has increased cure rates and improved quality of survival for patients through innovative research, outstanding clinical care, academic excellence and global leadership. The Center is the largest pediatric hematology, oncology and blood and marrow transplant program in the western United States. It also has one of the largest clinical trial programs for children with cancer and blood disorders in the nation.