UMass Lowell thought it was saving the biggest news of the night for the end. Oprah Winfrey had even bigger news.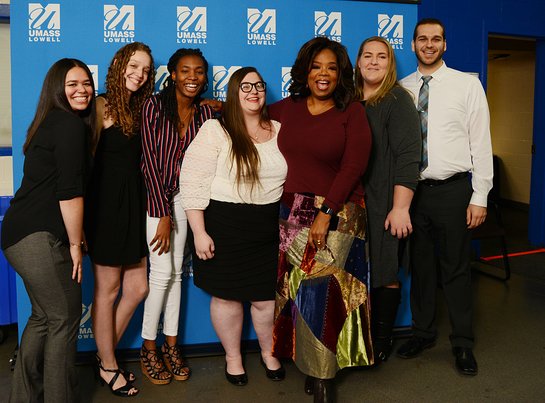 After Chancellor Jacquie Moloney announced that UMass Lowell had raised more than $1.5 million for scholarships at the Chancellor's Speaker Series Nov. 15, Winfrey pledged on stage to match it.
More than 6,000 people listened to the nearly 90-minute conversation between Winfrey and Moloney, which touched on education, gratitude, "The Oprah Winfrey Show," her work with children in South Africa, a 10-day visit with Nelson Mandela and her commitment to living a life of purpose and service.
Earlier in the day, Winfrey met with more than 200 UMass Lowell students for a master class that provided students with the opportunity to ask her questions.
The evening concluded with the introduction of the first six Oprah Winfrey Scholars and the presentation to Winfrey of an honorary doctor of humane letters degree by UMass President Marty Meehan, UMass Board of Trustees Chairman Rob Manning and Chairman of the Committee on Academic and Student Affairs Trustee Imari Paris Jeffries.
"Oprah Winfrey's visit will provide scholarship support for UMass Lowell for years to come," Moloney said. "We are so honored to share an evening with one of the most powerful and most positive people on Earth."
Asked by Moloney why she had decided to spend her night at UMass Lowell, Winfrey pointed to the goal of the Chancellor's Speaker Series, saying she decided to come when she learned the university would use the event to raise money for scholarships.
Lowell was also on Winfrey's radar thanks to one of her Oprah's Book Club recommendations: "House of Sand and Fog" by UMass Lowell English professor and best-selling author Andre Dubus III. Winfrey said Dubus was one of the few authors she featured who wrote her a personal thank you note, something that stuck with her.
Moloney and Winfrey also discussed the value of education, including offering a standing ovation to the many teachers in the audience.
"The only way you change a life is by changing the way someone thinks about their life and you do that with education," Winfrey said.
Winfrey ended the night with a piece of advice for the audience.
"I try to do the right thing even when no one is looking," she said. "When you don't know what to do, do nothing until you do know. There is that still, small voice inside of you that always – always – has the answer."
UMass Lowell is a national research university located on a high-energy campus in the heart of a global community. The university offers its more than 18,000 students bachelor's, master's and doctoral degrees in business, education, engineering, fine arts, health, humanities, sciences and social sciences. UMass Lowell delivers high-quality educational programs, vigorous hands-on learning and personal attention from leading faculty and staff, all of which prepare graduates to be leaders in their communities and around the globe. www.uml.edu