AutoNation, Inc., America's largest automotive retailer, along with multi-platinum recording artist Andy Grammer, presented a check for $50,000 to the Breast Cancer Research Foundation (BCRF).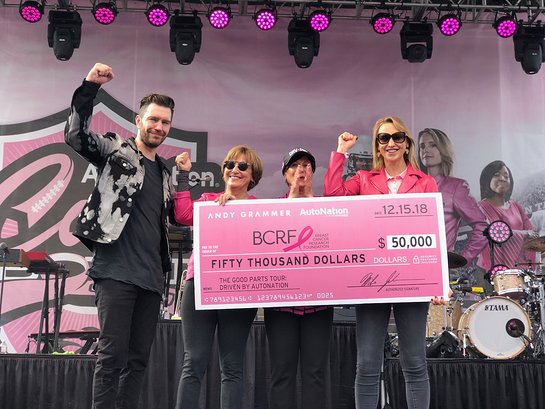 This money was raised through AutoNation and Andy Grammer's partnership. Andy teamed up with AutoNation and its Drive Pink initiative to drive out cancer because raising awareness and early detection is important to the pop artist after losing his mother, Kathy Grammer, to breast cancer.
After an energized and inspiring concert performance at the AutoNation Cure Bowl Tailgate and Pre-Game Concert at Tinker Field, adjacent to Camping World Stadium, Andy Grammer, joined by Marc Cannon, EVP & CMO of AutoNation, and Alice Jackson, wife of AutoNation's Chairman, CEO & President and BCRF Advisory Board Member, presented a check for $50,000 to Myra Biblowit, President & CEO of the Breast Cancer Research Foundation, and Kinga Lampert, Co-Chairman of the Board of Directors of the Breast Cancer Research Foundation. This money was raised through AutoNation and Andy Grammer's partnership. The partnership included a fall tour, The Good Parts Tour: Driven by AutoNation, in which Grammer collected $5 from ticket sales in AutoNation markets to donate to BCRF.
Following the first quarter, the Breast Cancer Research Foundation presented a check for $1.1 million dollars, representing their three-year cumulative contribution, to Dr. Annette Khaled, Professor & Cancer Division Head at the University of Central Florida's College of Medicine. Dr. Khaled is a BCRF funded researcher and these grants have continued to fuel the ground-breaking research BCRF supports in achieving its mission to be the end of breast cancer.
The check was presented by Cheryl Miller, AutoNation's Executive Vice President and Chief Financial Officer and Alice Jackson, along with Alan Gooch, Executive Director, Orlando Sports Foundation, Myra Biblowit, and Kinga Lampert, at the 2018 AutoNation Cure Bowl at the Camping World Stadium in Orlando, Florida.
During halftime, breast cancer survivors, led by Allison Johnson, the mother of Matt Johnson from Season 15 of The Voice carried nine AutoNation Drive Pink quilts on to the field. The quilts are comprised of thousands of quilt squares, made by AutoNation Associates to honor loved ones touched by cancer.
Now in its fourth year, the AutoNation Cure Bowl benefits BCRF, the largest private funder of breast cancer research worldwide. BCRF is also the highest rated breast cancer organization in the U.S.
The Company has committed its charitable resources towards cancer research, early detection and prevention. In October, AutoNation's 26,000 associates participated in the Company's "DRIVE PINK Across America Day", in commemoration of Breast Cancer Awareness Month. Associates in all 18 markets from coast to coast assembled and delivered gift bags filled with items designed specially to bring comfort to kids and adults undergoing cancer treatment, all part of the larger "DRIVE PINK" initiative that has raised more than $16 million dollars to fund cancer-related nonprofits and research into finding a cure.