The third annual Blue Jacket Fashion Show was held on February 7, 2019, at Pier59 Studios as part of CFDA's New York Men's Fashion Week.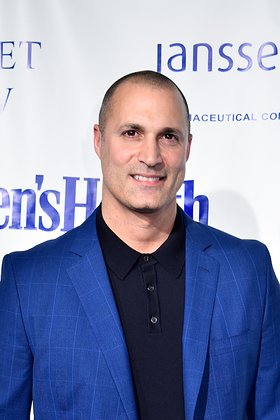 The Janssen Pharmaceutical Companies of Johnson & Johnson partnered with the Blue Jacket Fashion Show along with Accuray, Men's Health magazine, and with the support of the Council of Fashion Designers of America (CFDA), to benefit the Prostate Cancer Foundation (PCF).
The Blue Jacket Fashion Show brings together the fashion, entertainment, healthcare, and media worlds around a national platform to openly discuss men's cancer issues, with an emphasis on prostate cancer. Coinciding with February's Cancer Prevention Month and New York Men's Fashion Week, the Blue Jacket Fashion Show included designers such as Arjona Collection, Banana Republic, Ben Sherman, Brooks Brothers, Bruno Magli, Duckie Brown, Eleventy, Emporio Armani, Everest Isles, Gustavo Moscoso, Hugo Boss, John Varvatos, Joseph Abboud, Levi's, Lululemon, Mack Weldon, Michael Kors, Polo Ralph Lauren, Ralph Behk, Ryan Seacrest Distinction Collection, Son Jung Wan, Stephen F, Thom Browne, Tincati, Tommy Hilfiger, Anne Fontaine, Haspel, and Todd Snyder who used their creative talents to "reinvent" the traditional blue blazer.
Those walking the runway wearing one-of-a-kind blue jackets included models, actors, and TV personalities. Comedian Judy Gold returned for the second year as the emcee for the evening and models included Drake Bell, Billy Porter, Nigel Barker, Ryan Eggold, Buster Skrine, Dr. Mike, Alex Lundqvist, Jerod Haynes, Mario Cantone, Dominic Fumusa, Harry Lennix, Simon Doonan, Jeremy Carver, Edwin Hodge, Steven Kolb, Brian Mazza, Kenneth Ferrer, Demin Borgers, Moti, Tim Taylor, Richard Greene, Nik Dodani, Jacob Thomas, Sean Fraizer, Leo Chan, Mercel Floruss, and Lee Tergesen.
Countess Luann and Sonja Morgan of Bravo's Housewives of New York, also walked in the show, being the first women to walk the runway in support of the cause.
Prostate cancer is the most prevalent cancer affecting men exclusively, with one in nine diagnosed in the U.S. and 14 million affected worldwide. African-American men are 76% more likely to develop prostate cancer than Caucasian men and twice as likely to die from it. Men with relatives – father, brother, son – with a history of prostate cancer are at higher risk of developing the disease, as are men whose mothers had certain types of breast or ovarian cancer. There is a prostate cancer diagnosis every 3 minutes and it takes the life of a man every 17 minutes. For the first time in 20 years, instead of deaths from prostate cancer decreasing each year, they have leveled off, indicating there is still much work to do to raise awareness about the importance of early screening and necessity to fund research. Men age 50 and over, or 40 if in a high-risk group, should talk to their doctors about their prostate cancer screening options.
"Medical research breakthroughs come from passion, collaboration, attention to every detail, and incredible creativity. Those attributes are also in the DNA of the fashion industry. Our collaboration between the Prostate Cancer Foundation and the fashion industry has the potential to creatively help millions of men and their families with awareness of the disease that will affect 1 in 9 men in their lifetimes," said Jonathan W. Simons, MD., president and chief executive officer of PCF. "By using the runway and art of design to showcase an issue that has often been in the shadows, The Blue Jacket Fashion Show is putting the spotlight squarely on prostate cancer and the men who are depending on us to develop treatment and cures for them. We are grateful that the funds raised will directly impact unprecedented precision oncology research that is leading to new life extending discoveries weekly."
"We are honored to support the Blue Jacket Fashion Show to help raise awareness of prostate cancer symptoms, prevention and early treatment options," said Reshema Kemps-Polanco, Vice President of Sales and Marketing, Janssen Oncology. "At Janssen, we envision a world where cancer is a preventable, manageable, and even curable condition. As a leader in the fight against prostate cancer, we are constantly working to find new ways to prevent and intercept this disease in its early stages." Johnson & Johnson has committed to donate $1 to the Prostate Cancer Foundation for every photo shared using the company's Donate a Photo app until May 5, 2019.
"It was fitting that we partnered with the Blue Jacket Fashion Show to support the prostate cancer community. We believe that awareness and education are key to ensuring that men have the information they need to make informed decisions about their health," said Birgit Fleurent, Chief Marketing Officer at Accuray. "Accuray's global team is committed to helping improve the lives of men diagnosed with prostate cancer. Our treatment, the CyberKnife System, precisely targets the prostate cancer with a non-invasive and convenient approach to treatment. Radiation therapy is administered in just 4-5 sessions, with minimal disruption to men's daily lives during or after treatment."