Children's Hospital Los Angeles (CHLA) launched its fourth annual Make March Matter campaign Monday.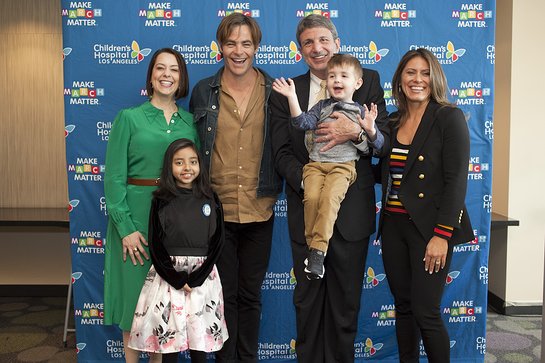 Actor and longtime CHLA friend Chris Pine joined the hospital to kick off the campaign, which has attracted the commitment of businesses in Los Angeles and the Coachella Valley. The month-long community fundraising drive is helping local businesses rally community participation to raise $1 million in the month of March to support children's health in Los Angeles and surrounding communities.
"This campaign is a much-anticipated event for our hospital and our community because it embodies our shared commitment to improving the health of children," states CHLA President and CEO Paul Viviano. "For 31 days people can improve access to health care for children by participating in very accessible ways that make a difference, like buying a latte at a local coffee shop, sharing a meal with family and friends at a local restaurant, shopping at a favorite retailer, and more."
Each year, CHLA treats children who face a broad range of health issues, from common illnesses to traumas to chronic diseases. The hospital is also dedicated to innovation, supporting advances in research designed to improve pediatric health outcomes and partnering with physicians across the nation to bring the best care here to children in Los Angeles.
Last year, Southern California business and corporate partners helped the campaign exceed its $1 million goal, raising a total of $2 million to aid in funding life-saving care for children in Los Angeles.
Here's how the community and individuals can help Make March Matter:
Make a purchase or attend an event. For a complete list of participating partners and local events taking place throughout the month of March, go to MakeMarchMatter.org.
Make a donation at MakeMarchMatter.org.
Individuals may share how they are participating in the campaign on social platforms using #MakeMarchMatter
Corporate Partners
Corporations across the southland have agreed to support community members in giving back. Each business has selected a unique way to contribute to the campaign's collective impact—some sell specific items with proceeds supporting CHLA patients, others devote a portion of overall sales for the entire month and still others create their own unique fundraising campaigns to galvanize their employees and consumers to contribute.
"The Panda Restaurant Group is proud to once again support the Children's Hospital Los Angeles Make March Matter campaign," says Peggy Cherng, Co-Founder and Co-CEO. "As we mark our 20th anniversary of Panda Cares, our team is committed to giving back to the community, especially when it comes to helping youth in need. We have been the campaign's top fundraiser three years in a row and it is our goal to keep that distinction."
By visiting, shopping and dining with a business supporting #MakeMarchMatter, individuals can activate donations to support the care of patients at CHLA. For a full list of businesses supporting the campaign in Los Angeles and the Coachella Valley, visit www.MakeMarchMatter.org/partners.