The PEDIGREE brand has launched its first podcast, "THE DOG THAT CHANGED ME," hosted by Katherine Schwarzenegger, a New York Times best-selling author, pet adoption advocate and philanthropist.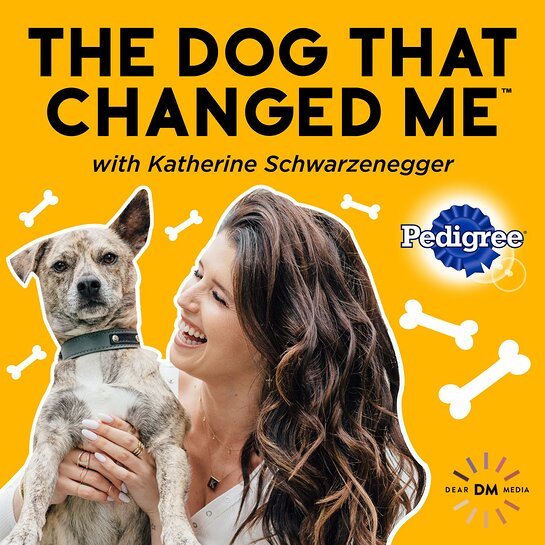 The nine-episode limited series shines a spotlight on dog adoption, as guests such as Mandy Moore, Bryce Dallas Howard, Haylie Duff and more share stories of the dogs that changed their lives for the better.
"Partnering with the PEDIGREE brand on this podcast has been a passion project for me," said Katherine. "Adopting my dog Maverick was life-changing, and sharing that story, as well as being able to hear stories from others about the amazing impacts their dogs have had on their lives, has been so rewarding. I can't wait for people to hear our episodes – I know some will bring laughs, some tears and maybe even inspire a few people to adopt or foster a dog of their own."
Throughout the podcast, listeners will hear touching stories of how dogs have helped their owners through a variety of situations – from coping with loss or divorce, to saving family members and celebrating life's best moments – all laddering back to the importance of pets in our lives.
"THE DOG THAT CHANGED ME" is currently available on major podcast streaming sites, including Spotify, iTunes and Stitcher. The first five episodes were released today, featuring conversations with:
Actress and singer, Mandy Moore
Actress and director, Bryce Dallas Howard
Actress, Minka Kelly
Actress, singer and television host, Haylie Duff
United States Marine Corps veteran and star of a PEDIGREE brand ad, Dan Lasko
The final four episodes will be released Monday, May 20, sharing Katherine's exchanges with:
Dancer, actress and singer, Julianne Hough
Singer, actress and author, LeAnn Rimes
Owner of Ricochet – the surfing therapy dog and star of the new IMAX film, Superpower Dogs – Judy Fridono
Executive Director of PEDIGREE Foundation, Deb Fair
"We know that dogs benefit our lives and that all dogs deserve loving forever homes, and we're excited to share that message through the new PEDIGREE podcast, "THE DOG THAT CHANGED ME,"' said Elizabeth Barrett, PEDIGREE Brand Manager. "When people listen to the stories about the love of these dogs and the amazing things they can do, we hope they'll be inspired to consider dog adoption and understand the countless ways that dogs truly make our lives better."
The partnership between Katherine and the PEDIGREE brand is part of the brand's "Every Pup's Superpower" campaign. As a part of this program, Katherine and the brand are encouraging consumers to join them in celebrating the superpowers in all dogs and promoting dog adoption by sharing what is special about their own dog on social media. For every engagement or personal story shared using hashtag #EveryPupsSuperpower, the PEDIGREE brand will donate one bowl of food, up to 500,000 bowls, to shelter dogs awaiting adoption. In addition, the PEDIGREE brand will donate $250,000 to PEDIGREE Foundation to support shelters around the country.
Listen to "THE DOG THAT CHANGED ME" now on major podcast streaming sites, including Spotify, iTunes and Stitcher.