The Evelyn Alexander Wildlife Rescue Center of the Hamptons celebrated their 13th Annual GET WILD! Summer Gala at Joan and Bernard Carl's Little Orchard Garden on Coopers Neck Lane in Southampton, NY last weekend.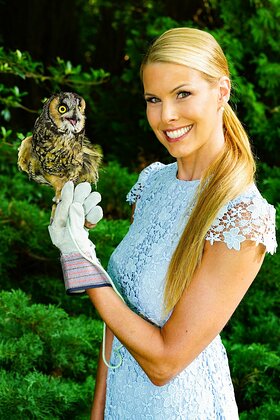 The event honored Scarlett Magda, DVM and Carl Safina, PHD, and welcomed distinguished guests to celebrate the united efforts to rehabilitate animals and successfully release them back into the wild across Long Island.
Guests enjoyed live music along with cocktails and light fare, and a silent auction. The cocktail party featured appearances from some of the hawks and owls the Evelyn Alexander Wildlife Rescue Center has rehabilitated that are non-releasable and now reside at the Center.
Notable attendees included: Ginnie Frati, Shelley Berkoski, Beth Ostrosky Stern, Ramona Singer, Ellen & Chuck Scarborough, Linda Lambert, Jonathan McCann, Joan and Bernard Carl, Alexandra Campbell, Jill Rappaport, Robert Zimmerman, Jordan & Brianna Schultz, Leslie Alexander, Howard Lorber, Susan Bourdeau, Missy Hargraves, Debbie Bancroft, Carl Safina, Scarlett Magda, Andy Sabin, Maryann Marston, Ingrid Edelman, Renee Schlather, Brigid Fitzgerald, Michael Katz, Nancy Regula, Curtis Silwa, Mary and Michael Warren, Hillary Ross, Patricia Watt, Claudia and Bill Walters, Amy Molnar and Justin Molnar.
This year's GET WILD Summer Benefit sponsors included: Greater Houston Foundation, Linda & Ben Lambert , Jonathan McCann, Douglas Elliman of Long Island, Leslie Alexander, D. Porthault, Andrew Sabin Family Foundation, Susan Dusenberry, Rosalie Brinton, Howard Marton, Ellen & Chuck Scarborough, Ingrid & Thomas Edelman, Maryann & Bob Marston, Dayton, Ritz & Osborne, Winfield Foundation, Fiduciary Trust Co. International, Allison Maher Stern, Bill Schlegel, The Corcoran Group, World Wide Group, BNB, Town & Village Realty Services, Amy Molnar, Tundra Wolf, Audrey Gruss, Patricia Preu, Dr. Roberta J.M. Olson and Alexander B.V. Johnson, W. Dean Gomolka Landscape Design Corp., Hutchison Landscape Services Inc., Perry Gershon, Sony Schotland and Hamptons Employment Agency.