Here's your chance to bake cookies with Jennifer Garner and help a good cause.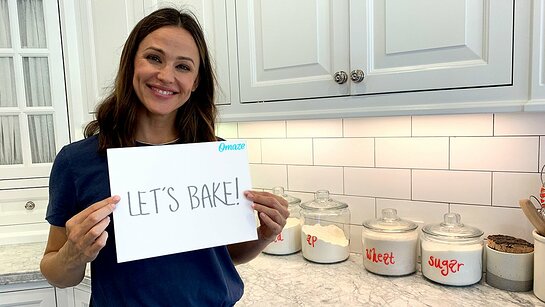 omaze.com has launched a new celebrity charity contest in which you can win the opportunity to hit the kitchen with Jennifer and bake delicious cookies together. All you have to do is donate to charity – the more you donate, the more chances you have to win.
Jennifer Garner's got just the recipe for your perfect day. First, start with a dream trip to Los Angeles. Combine a dash of round-trip flights with a swanky hotel, plus an extra dollop of sunshine. Be sure to add a friend into the mix for good measure. Then whip over to Jennifer to — and this is a crucial step — bake COOKIES! You'll crack eggs and jokes. Ask Jennifer all your burning questions (without burning the cookies). And get to know the amazing actress/supermom who's warmed our hearts on TV, movies and Instagram. It doesn't get sweeter than that! Flights and hotel included.
Proceeds from the contest will go to the Epilepsy Foundation. The Epilepsy Foundation, a national nonprofit with more than 50 local organizations throughout the United States, has led the fight against seizures since 1968. The Foundation is an unwavering ally for individuals and families impacted by epilepsy and seizures. The Foundation works to prevent, control and cure epilepsy through community services; public education; federal and local advocacy; and supporting research into new treatments and therapies. The Foundation works to ensure that people with seizures have the opportunity to live their lives to their fullest potential. Jennifer is offering this experience to support the charity efforts of her friend and ALIAS co-star, Greg Grunberg, whose oldest son lives with epilepsy.
To find out more, and to enter, click here.