This week, MPTF (Motion Picture & Television Fund) hosted its eighth annual "Reel Stories, Real Lives" event, a unique evening of powerful stories about industry members and their families who have benefitted from MPTF's services in recent years.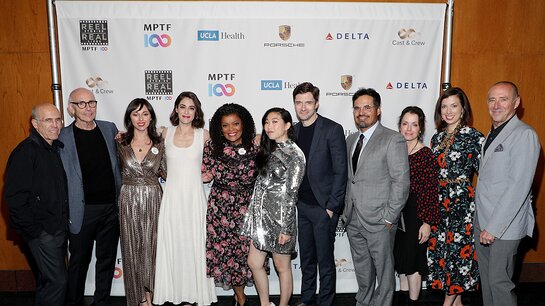 Yvette Nicole Brown, Lizzy Caplan, Topher Grace, and Michael Peña served as the storytellers.
Each story was written by one of Hollywood's leading feature and television writers, including Lindsey Beer, David Benioff and D.B. Weiss, John Hoffman, Chris Nee, and Billy Ray.
The evening was hosted by critically-acclaimed actress Awkwafina.
"Once a year, with the Reel Stories, Real Lives event, MPTF has an amazing opportunity to showcase the broad range of support this nearly 100 year-old organization provides to our entertainment community. There's no better way to do this than through the very compelling power of story-telling, and thanks to some very gifted writers and presenters we open a window to the many incredible ways we care for entertainment industry members in their time of need," said Bob Beitcher, President and CEO of MPTF.
The event was sponsored by Cast & Crew, Delta Air Lines, UCLA Health, MedMen, and City National Bank, An RBC Company.
The evening drew approximately 500 industry leaders and celebrity guests and was produced by Cate Adams, Alana Mayo, Kevin McCormick, Tara Schuster, Greg Sills, and Courtenay Valenti.