By Rachel Zeskind on
Look To The Stars' Rachel Zeskind recently had the pleasure of being introduced to the amazing work of the Hope North Organization through a recent interview with Forest and Keisha Whitaker. She met up with them at the premiere of the documentary film Kassim the Dream, an event hosted by Hope North, CITI, and GQ Magazine's Gentlemen's Fund. All of these dedicated hosts united for a heartfelt cause, the children of Uganda who have been stolen away, robbed of their innocence and youth and forced into the terrors of civil war.
Forest Whitaker
Forest Whitaker is not only an incredibly talented actor, but he is also deeply involved in numerous charities and organizations that aid children in despair and causes that better the world one step, one child, one issue at a time.
In speaking with Forest and his lovely wife Keisha, who both had a kindness and depth that emanated from their words, it was clear that they both had a passion for the work that Hope North is doing in Uganda as well as for children in need everywhere.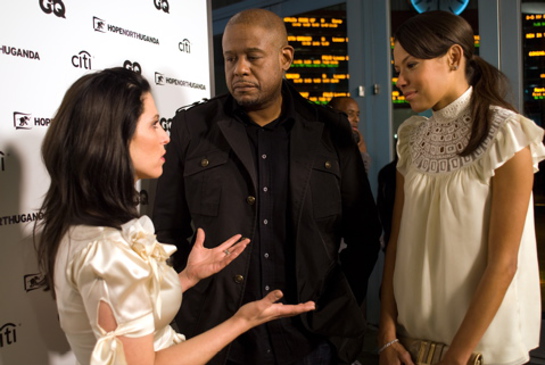 The film Kassim the Dream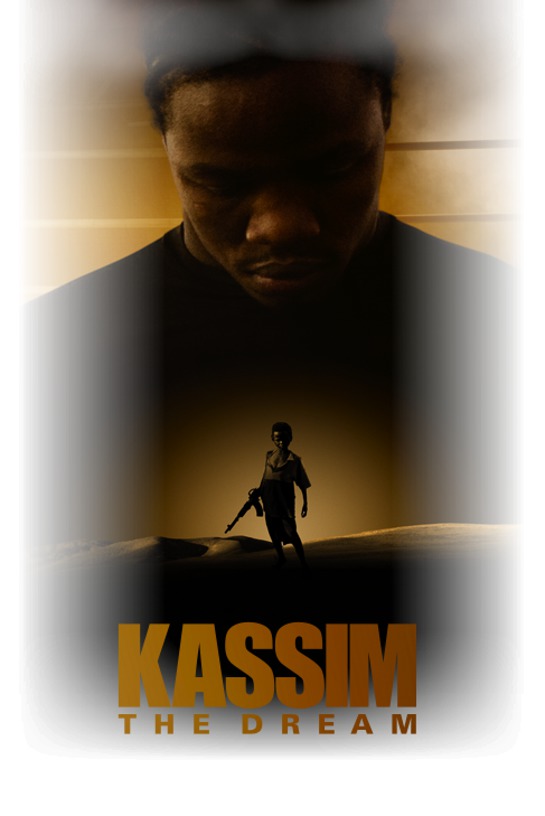 The documentary film 'Kassim the Dream' is the story of World Champion Boxer, Kassim "The Dream" Ouma – born in Uganda, kidnapped by the rebel army and trained to be a child soldier at the age of 6. When the rebels took over the government, Kassim became an army soldier who was forced to commit many horrific atrocities, making him both a victim and perpetrator. He soon discovered the army's boxing team and realized the sport was his ticket to freedom. After 12 years of warfare, Kassim defected from Africa and arrived in the United States. Homeless and culture shocked, he quickly rose through the boxing ranks and became Junior Middleweight Champion of the World.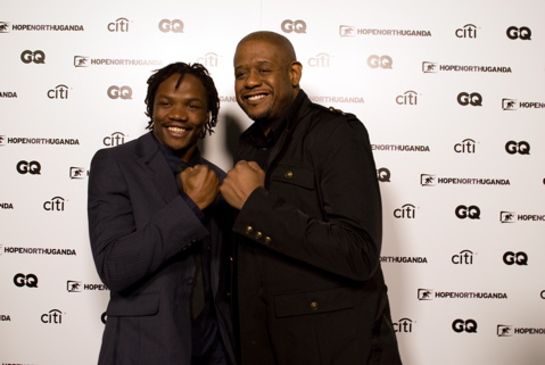 Kassim, now age 27, seems to have obtained the American Dream with his jovial nature, fame and hip hop lifestyle. As Kassim trains for his next world title fight against Jermain Taylor in Little Rock Arkansas, keeping his demons out of the ring becomes increasingly difficult. His desires to reunite with family in Uganda intensify when Kassim's only hope for a safe return is a military pardon from the president and government responsible for his abduction.
Kief Davidson – director of Kassim The Dream – received unprecedented access to Kassim Ouma during a pivotal time in the boxer's career. Filmed in cinema verite, current events are skillfully woven in with brutal revelations of a stolen childhood. The parallels reveal a complex and haunted fighter surviving against incredible odds.
What is Hope North?

Hope North is a 40-acre campus in northern Uganda where refugees, orphans and former child soldiers find a place to call home. It is a living and learning community with an accredited secondary school, vocational training center and full time Ugandan staff of fifteen.
Why was Hope North created?

In northern Uganda, tens of thousands of children have been abducted to serve as soldiers in a brutal civil war. The war has made orphans and refugees of many others, with 1.6 million Ugandans forced into overcrowded camps. Doctors Without Borders named the conflict in northern Uganda one of the top ten most underreported humanitarian tragedies. 

Hope North was created to give education, vocational training, community and hope to some of these young victims, while preserving their Acholi heritage.
Where is Hope North?

Hope North lies an hour southwest of Gulu, in Masindi. The site of Hope North was carefully chosen to provide protection from unpredictable violence, while also preserving a connection to Acholi cultural life (all of Hope North's residents are from the Acholi ethnic group). By locating Hope North within an Acholi-speaking region, its founder aimed to minimize the sense of isolation and dislocation that comes with being a refugee.
What do the youth do at Hope North?

Hope North operates an accredited school and offers vocational training in carpentry, food production, tailoring, and programs in arts, music, dance and sports. 

With abundant acreage and a new tractor, Hope North plans to expand into commercial agriculture for both internal food consumption and revenue generation.
What are Hope North's rehabilitation programs? 

Arts, music and dance based in Acholi tradition are an integral part of Hope North's culture, and the basis for healing the war's many emotional wounds.
My Personal Discovery Through Hope North
It seems so distant and removed from my life – as I sit in my comfortable chair, in my peaceful neighborhood – that children are suffering indescribable and unacceptable evils as a result of the years and years of civil wars within Uganda. However, my heart knows that this in fact does impact my life, your life, and every other life on this planet since we are all part of this enormous family called human beings.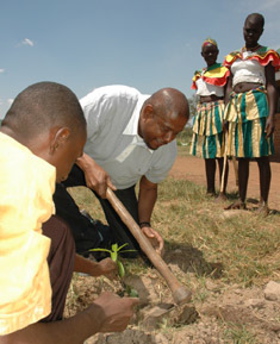 After spending time speaking with Forest Whitaker, representatives of Hope North and doing my own research for this article, I was shocked to discover that for the amount of money I spend on groceries every week, I could personally change the course of a child's life by sponsoring a child's entire room, board and education. For the amount that I spend at Starbuck's in one week, I could pay for one child's food for a month. And for the cost of a single movie I could supply an entire classroom of students with the supplies they need to become educated.
Both Forest and Keisha Whittaker have committed to sponsoring children at the Hope North Organization, in fact when Forest visited the fifty acre safe haven in Uganda he rolled up his sleeves and lent a helping hand to some daily tasks that serve in healing, caring for, restoring and educating their 172 students.
Whitaker wrote the following letter to the Hope North supporters:
Dear fellow Hope North Mentors and donors,
Thank you for joining me in supporting the students of Hope North. These youth have experienced tragedy, but I can assure you that your generosity has lifted their collective spirits. They are eager to convey their gratitude and connect to the world at large.
In that spirit, I am pleased to present you the first ever Hope North newsletter, created by Hope North students exclusively for Hope North donors. It represents an exciting opportunity for the students to tell their stories in their own words, while learning new skills they will use for the rest of their lives. The Newsletter Club is completely voluntary. The participants are aspiring artists, doctors, engineers and journalists. Not so long ago these youth could not attend school, today they have school and extracurricular activities. You have given them hope that their dreams can be fulfilled.
Because Hope North is a small grassroots organization, together, our donations and support are making a huge difference, forever changing the lives of over 170 young people. Please encourage others to get involved and join the Hope North family. Our fundraising campaign has only just begun, and more support is needed to help Hope North stay afloat and even grow.
Despite the current financial climate, I believe efforts like our own will one day touch all of the world. Can you imagine a world where every child is given an opportunity to fulfill their potential? Thanks to you and your generosity, I can begin to imagine that world.
Best Regards,

Forest Whitaker
The GQ Gentlemen's Fund
The Gentlemen's Fund initiative has partnered with five outstanding charities and five celebrity ambassadors to support five cornerstones essential to men—Opportunity, Health, Education, Environment, and Mentorship. Established in 2007 to commemorate GQ's 50th anniversary, The Gentlemen's Fund hopes to encourage individuals to become agents of change by contributing to charities that champion these causes.
They were introduced to Hope North by Forest Whitaker when he became one of their Celebrity Ambassadors. When Hope North experienced a water contamination crisis, which caused many of the children to become ill, like so many other parts of Uganda do, they raised funds to build a new well and cover operating costs for the entire organization for a few months. Now they are committed partners, supporters and friends to the Hope North organization.
For more information on how to get involved please visit Hope North's website.
A Brief Note From Hope North:
Please check out the student created Hope North Newsletter at this link.

The newsletter is written by the students and has articles, interviews and bios as well as an intro from Forest Whitaker. We are very proud of the student's accomplishments, and we hope you will be touched by their stories and inspired by their courage to overcome the pain of their past and their hard work in educating and training themselves to build a better future.
Look To The Stars would like to thank GQ and The Gentlemen's Fund for giving us access to the "Kassim The Dream" event.