Hudson River Park Friends raised nearly $400,000 at the 7th annual Playground Committee Luncheon last week.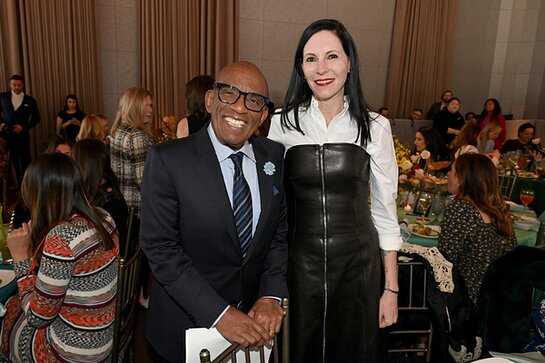 Hosted by Weather Anchor of NBC's TODAY, Al Roker, the afternoon honored actress and author Jill Kargman and Zara Terez Tisch, the Founder and CEO of Terez. The Luncheon featured a live auction led by Harry Santa-Olalla. Additional attendees included: Sas Goldberg, Erin Lichy, Meredith Melling, Lindsey Peers, Bronson Van Wyck and others.
The 2023 Luncheon Planning Committee includes: Rebekah Klipper (co-president), Sarah Lambert (co-president); Wendy Amsterdam, Jenny Miller Dutton, Jillian Simpson, Caroline Bliss Spencer and Megan Stackhouse.
WHAT:
Hudson River Park is a 550-acre recreational oasis running from Chambers Street to 59th Street bringing much needed, green open space to millions of New Yorkers. Hudson River Park is NOT a city park and relies on private donations and community support to keep the Park green, clean and growing.
The Hudson River Park Friends' Playground Committee honors accomplished parents and leaders in their communities who are actively engaged and supportive of Hudson River Park and its initiatives. The Playground Committee works to gather support from the local community and raise funds for education, play areas, sports fields, children's programs and more. Since the Playground Committee's inception, their advocacy efforts have made a profound impact and the Committee has raised over $6 million to benefit the Park.
Harry Santa-Olalla led the afternoon's live auction, which featured unique experiences from premier restaurants within Hudson River Park — City Winery and Grand Banks — and popular sports bundles, including meeting the pros at the US Open and an ultimate New York Sports Fan package.
In keeping with this year's event theme — Stay Wild — the money raised at HRPK Friends' Playground Committee Luncheon helps fund the Park's 550+ free programs including public education, environmental sustainability and special events for families and children — because today's wild playground-goers are the future stewards of the environment.
This year, Hudson River Park celebrates its 25th anniversary with the openings of exciting new amenities at Pier 57, the reopening of Chelsea Waterside Park, the grand openings of Gansevoort Peninsula and Pier 97 — bringing nearly eight acres of new green spaces to NYC families.
The Playground Committee Luncheon's sponsors included BLADE, The Corcoran Group and Frying Pan.