The Open Hearts Foundation announced last week that its 2023 Celebratory Gala weekend was its most successful to date with net fundraising efforts nearing $500,000.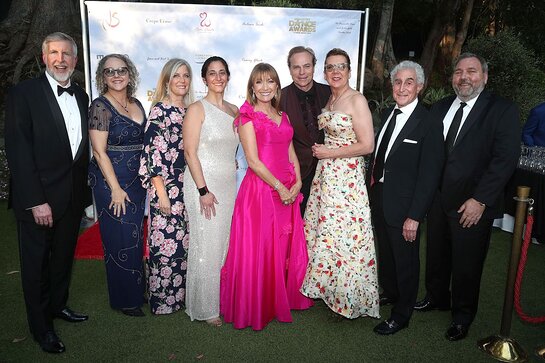 The two-day affair which featured sold out events on Friday, May 19, 2023, and Saturday, May 20, 2023, attracted over two hundred and thirty philanthropists, innovative business leaders, and sponsors from countries such as Poland, Australia and Ireland and domestic locations such as Texas, Connecticut, Georgia, as well as Northern and Southern California. Over the two-day celebration Jean-Charles Boisset and Gina Gallo-Boisset, a dynamic philanthropic couple and winemaking royalty, were awarded the inaugural Open Hearts Humanitarian Award and one of the Foundation's high impact charity partners, Vasso Paliouras, Founder and Executive Director of Lending Hearts, was honored with the Open Hearts Award.
Foundation co-founder, Emmy and Golden Globe Award winning actress, Jane Seymour, donated her private Malibu estate to kick off the Gala weekend with an intimate Friday evening, hosted cocktail reception and dinner overlooking the Pacific Ocean for Sponsors and Benefactor donors. Saturday night's event was hosted at the famed Calamigos Ranch nestled in the heart of the Santa Monica Mountains in Malibu Wine Country and began with hosted cocktails and tray-passed hors d'oeuvres followed by a three-course dinner. Fine wines and bubbles were donated by Boisset Collection and E. & J. Gallo Winery all weekend long.
"I couldn't be prouder that our Open Hearts movement continues my mother's legacy of living with an open heart and, together, with the kindness and generosity of our global family of donors, we will further our grantmaking and volunteer programs that assist so many wonderful emerging charities around the country. We are absolutely thrilled to grow our movement of like-minded people working together for the greater good," said Seymour.
Award-winning journalist and anchor of What's Now, WKYC, Christi Paul, served as the weekend's Master of Ceremonies returning to guide the evenings for the eleventh time. Jared Lee with his guitarist Martin took the stage on both Friday and Saturday nights for stirring musical performances and Brenna Whitaker with her Little Big Band headlined Saturday night with her sultry jazz renditions that had the guests dancing the night away. Actor Kevin Ryan, Seymour's co-star in the hit Acorn series "Harry Wild," introduced the Foundation to Ireland's Consul General of Ireland Southwestern United States, Marcella Smyth, and Ireland's most renowned living classical composer, Patrick Cassidy. Eleven charity partners, recipients of the Foundation's recent grants, also attended the event. Along with the Foundation's global volunteers, these charity partners were recognized by Paul during the evening, having traveled from all over the United States representing important causes such as the needs of foster children, families facing food insecurity and lacking necessities like diapers, clothing or shelter, children with an incarcerated parent, or programs that support domestic violence issues.
A moving video tribute highlighted why Jean-Charles Boisset and Gina Gallo-Boisset, of Boisset Collection and E. & J. Gallo Winery respectively, were honored with the inaugural Open Hearts Humanitarian Award. Philanthropy is a tenant of this couple's personal and business philosophy, keeping their hearts open and lending their expertise and resources to many important causes and charities in Napa Valley, Sonoma and beyond. When they received their Open-Heart sculpture, Gina and Jean-Charles both spoke of their passion for giving back, the privilege to serve, and they also encouraged everyone attending the event to take the opportunity to make a difference in their communities. A little later in the evening, Vasso Paliouras, was honored with a similar moving tribute that shared her personal journey of struggle and triumph and how she is a living example of the Open Hearts Philosophy. Vasso accepted the Open Hearts sculpture to a thunderous standing ovation for her work and over a decade of dedication to bring hope and strength to children and young adults with cancer. There was not a dry eye in the room.
A highlight of the evening was the rousing live auction featuring one-of-a-kind experiences and valuable luxury items. Bidding was high and active all night long to support the Foundation with exclusive trips donated by Boisset La Famille des Grands Vins in Burgundy, France, Belfast's The Grand Central Hotel and Kilkea Castle in Ireland, a luxury voyage on Cunard to Alaska, and a private villa in Costa Rica from Inspirato for Good. Brad Buhr from MAXISIQ started off the live appeal with a $25,000 donation to the Foundation that was matched by Jean Charles Boisset and Gina Gallo-Boisset. Many more philanthropists raised their paddles at $10,000 and $5,000 levels that followed. In addition to the in-person celebration and live auction, the Foundation will be continuing its fundraising efforts online through May 31 offering luxury products, travel experiences, and art. More than thirty items are available for their winning bid here.
The Open Hearts Foundation Gala was sponsored in part by: JS Designs, Industry Dance Awards, MAXISIQ, Forefront Living, Jane and Bert Inch, the Honorable Dave and Julie Gallo Vander Wall, Arlene Inch, Tracey Gluck, Crepe Erase, and GTE Agency. All proceeds from this Gala celebration will support the Foundation's mission in 2023. The Foundation looks forward to putting all of these funds to work in its next grant cycle in July and volunteerism programs throughout the year.