Italian luxury fashion house Versace, is pleased to announce that for the second straight year, it will sponsor the Whitney's Gala and Studio Party. Taking place Monday evening October 19th, the event will be co-chaired by Penelope Cruz, Liz Swig and Donatella Versace.
In addition to sponsoring the Gala, Donatella Versace collaborated with the Whitney's Education Department and designed a project called Art Unites to provide children in need in the United States and China with the incomparable spirit, creativity, inspiration and solace that visual arts bestow.
The program, which officially launched on July 1st, will benefit Starlight Children's Foundation, an organization dedicated to brightening the lives of seriously ill children and their families in the US, and the One Foundation in China, an organization committed to the long-term recovery of the areas devastated by last year's earthquakes in the Sichuan province, funding and operating two Versace One Foundation children's centers with schooling, psychological therapy, and post trauma counseling for over 1200, through creative visual arts an essential form of relief.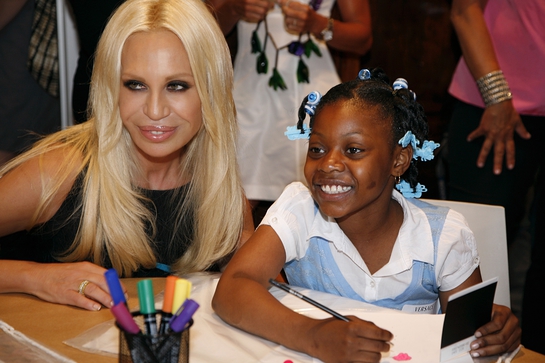 As part of the program Versace will provide canvas and art supplies to 500 children from Starlight and 900 children from the One Foundation to create original drawings using the theme of "friendship". Each child's work of art will be fashioned into a one-of-a-kind Versace canvas tote bag which will be sold worldwide at Versace boutiques and the Gilt Groupe, a member's only ecommerce site this October. The bags are expected to retail for between $200 and $250, and 100% percent of the proceeds from the sale of the bags will be donated equally to Starlight and to One Foundation.
"I have been blessed with incredible success in my life," says Donatella. "And part of that success means being able to give back to people in need. As a mother, children's causes are especially close to my heart, and I am honored to be able to work with The Whitney on the creation of a program that inspires children through the arts. Both Starlight and the One Foundation provide critical support for children and their families, and I look forward to our ongoing partnership."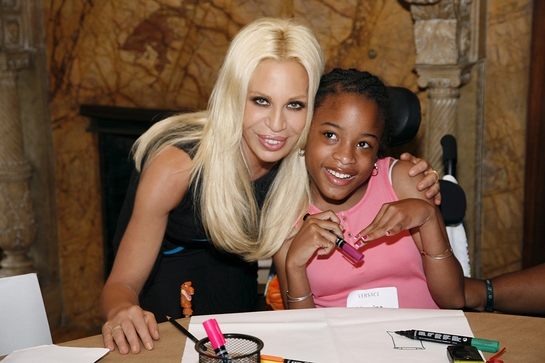 Kicking off the program, The Whitney's Education department hosted a day of art-making at the museum on July 1st with children with chronic and life-threatening illnesses from the New York chapter of Starlight. Donatella Versace was on hand at the party to encourage and inspire the children in the creation of their designs for the tote bags.
Once all the drawings worldwide are complete, a panel of judges led by Donatella, including Adam D. Weinberg, the Whitney's Alice Pratt Brown Director, Glenda Bailey, Editor-in-Chief of Harper's Bazaar, international actress Penelope Cruz, and Jet Li, actor and founder of the One Foundation, will select one winning bag from each charity which will be featured in the Versace runway show this September.