Environmental campaigner and former wife of Mick Jagger, Bianca Jagger and musician Nitin Sawhney stood alongside tribal activist Sitaram Kulisika of India's Khondh people at British mining company Vedanta's AGM late last month to protest against a proposal to open a massive bauxite mine on their spiritual homeland.
The bauxite will be processed into aluminium for use in items such as drinks cans and foil for chocolate bars.
ActionAid has bought a single share for Sitaram so that he can attend the AGM, make his voice heard and speak on behalf of his people.
The Kondh's future and a pristine eco-system are threatened with extinction by Vedanta's plans for the open-pit mine. It will destroy a large part of Niyamgiri Mountain in the eastern Indian state of Orissa, the Kondh's ancestral homeland.
The 8,000-strong Kondh tribe is totally dependent on the mountain for their crops, water and livelihoods. They are strongly opposed to the mine – scheduled to open in September – fearing it will destroy their way of life forever.
The Kondh regard Niyamgiri Mountain and its surrounding forest as sacred and home to their god, Niyam Raja.
Sitaram said: "It is not too late to stop the extinction of my people's way of life.
"Last year Vedanta directors promised not to mine without our consent. I am here to request all shareholders to honour that promise and save our livelihood and our god.
"We have been living in harmony with this mountain, these forests, these animals for generations. Vedanta has been here for less than 10 years. They cannot tell us what is best for our future."
ActionAid, which is asking shareholders to oppose the mining, pointed out that the destruction of an equivalent iconic cultural site such as Stonehenge would not be tolerated in the UK.
Meredith Alexander, ActionAid's head of Trade and Corporates said: "The destruction of the Kondh's homeland is imminent. Today, shareholders have a final chance to refuse to allow their money to be used in this way.
"Shareholders include the Church of England and numerous county councils. They are investing in a mine that will destroy a community's way of life."
ActionAid has produced a mock up of the demolition of Stonehenge to help the British public understand what is at stake.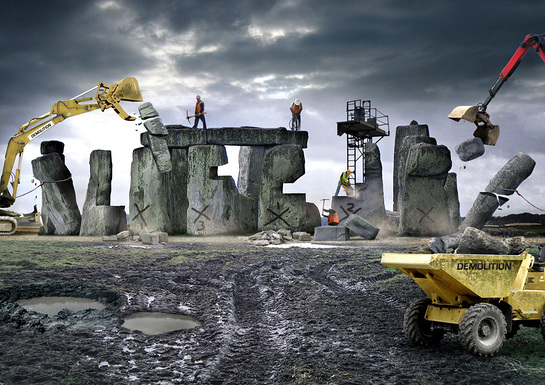 Meredith Alexander concluded: "Just as the public would be horrified to see Stonehenge demolished to make way for mining, ActionAid believes they should be even more troubled by Vedanta's plans to flatten the heart of the Kondh's culture, the land they also rely on for their future."