By Linda St Cyr on
Actor Jon Huertas, who stars as Detective Javier Esposito on ABC's "Castle", recently spoke to Look To The Stars' Linda St.Cyr about his support of the Wounded Warrior Project and Puppies Behind Bars, two charities he is passionate about.
Last month, Huertas attended a graduation ceremony at the Berthoud Community Center in Colorado for veterans who have completed an intensive two week training course with new service dogs.
Hi Jon, it's great to hear from you. How was your trip to Colorado?
Hi Linda. It was great, thanks for asking. Getting to meet the vets who graduated with their puppies was an amazing experience.
I read that you were in the Air Force. How long did you serve?
I served 8 years in the Air Force and it was one of the best experiences of my life. I believe it is a rite of passage to becoming a man. In the military you are responsible for another person's life and lots of very expensive equipment. The responsibility you are given makes you grow from a boy into a man.
Is your experience in the Air Force what led you to getting involved with the Wounded Warrior Project?
Yes and No. A friend of mine, Rudy Reyez from "Generation Kill", got me involved with the Wounded Warrior Project. It is important for those suffering from Post Traumatic Stress Syndrome (PTSD) to know that there is help out there. The Wounded Warrior Project is dedicated to educating and providing programs and services for severely injured veterans between active duty and the transition to civilian life.
By being involved with both the Wounded Warrior Project and Puppies Behind Bars, I feel I am still connected to the military which helped shaped me into the man I am. It is my way of giving back.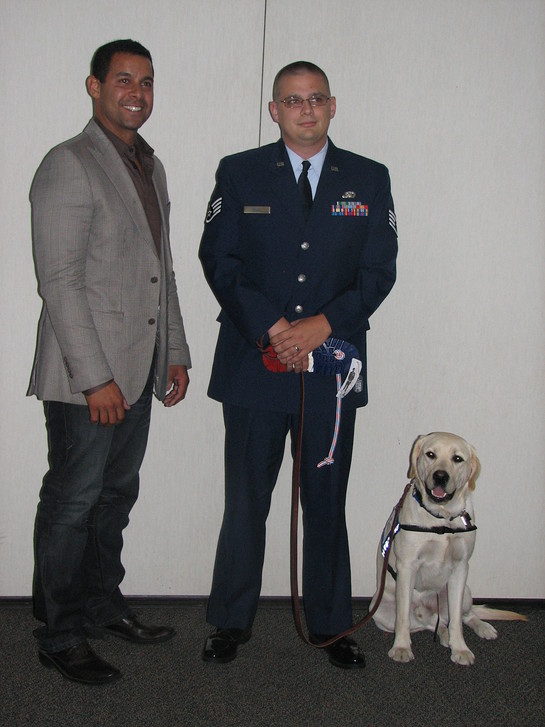 Are there any other charities or causes that you support?
I'm pretty busy with shooting the next season of "Castle" so the only charities I really support are WWP and PBB but I did donate to some friends who are in a Triathlon on Sunday for the Children's Hospital Los Angeles.
That counts! What would you like the public to know about WWP and PBB?
I really want to raise awareness for regular civilians to get involved and give back to the people who have served them in the military. These men and women have given their lives to protecting the freedom's we have and this is a way for civilians to give back.
You have been on a lot of television shows including "Castle", "Generation Kill", "NCIS", "CSI", and "Without a Trace". Is there one project that has been your favorite?
My favorite project to work on has been "Generation Kill". The story is so important and it is based on real marine's who led an assault on Baghdad in 2003.
"Generation Kill" has been nominated for some Emmy Award's. How many?
It has been nominated for 11 Emmy Awards. It has been truly amazing working on the show. Credit goes to the writers of the show. Acting is easy when the story telling is good.
Since you are involved with Puppies Behind Bars, it leads me to believe, you love dogs. Do you have any pets?
I do. I have two Basenji dogs.
Are there any other projects you are working on?
"Castle" is keeping me busy but when the shoot is over I am planning on taking a three week course to get my pilot's license.
Good luck! Thank you for granting Look to the Stars this interview, Jon. It has been a pleasure.
Thank you. Give me a call next year and we will do an interview while I'm flying!
To find out more about the Wounded Warrior Project, visit their website. More information about Puppies Behind Bars can be found here.