On October 17, 2009, R&B star Usher and "Extreme Makeover: Home Edition" traveled to Clarksville, Tennessee to give Trina Scott and her three daughters the good news that their problem-ridden home would be rebuilt in just seven days. This episode of "Extreme Makeover: Home Edition" will air SUNDAY, DECEMBER 6 (8:00-9:00 p.m., ET) on ABC.
Trina, 44, met her husband Dave while he was serving with U.S. Army Special Forces in Fort Bragg – and it was love at first sight.
After his discharge, Dave became a Clarksville police officer. In 2002, he and his partner were on duty when their police car was violently struck by a truck. The car spun out of control, hit a guardrail, caught fire and killed both Dave and his partner almost instantly. Overwhelmed with grief, Trina turned to a group called Concerns of Police Survivors, Inc. (C.O.P.S.), which helps the surviving family members of officers killed in the line of duty. Inspired by the help she received from C.O.P.S., Trina devoted all of her free time to the organization and became its President in 2003. The time that Trina dedicates to C.O.P.S. represents essentially a full-time job, and that's on top of the full time job she works to support her three daughters — Leyla, 17, Deidie, 13, and Alethea, 11. Trina has spent more than $20,000 on the mounting repairs to her small home, but the structural problems caused by termites and water damage remains.
Usher was on hand to help with the build, but mostly to recognize and support the family's dedication to giving back. Usher's New Look Foundation awarded the Scott family $25,000 to continue their legacy of service and give back to the community in an even bigger way. Usher's New Look has been working for the past 10 years to support young people to use their talents and creativity to become corporate and community leaders.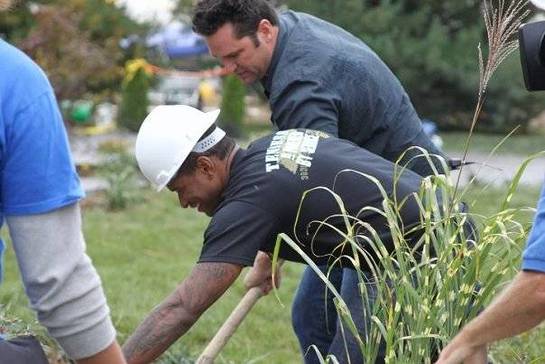 The work of the Foundation now expands to Tennessee where the Scott daughters and their peers at C.O.P.S. will use the funds provided by Usher's New Look to give out small grants of $500 to other youth to start community service and social entrepreneurship projects. This youth to youth grant-making project is a part of Usher's New Look's Powered by Service initiative, which encourages young people to utilize their talents and passions to make a difference in their community.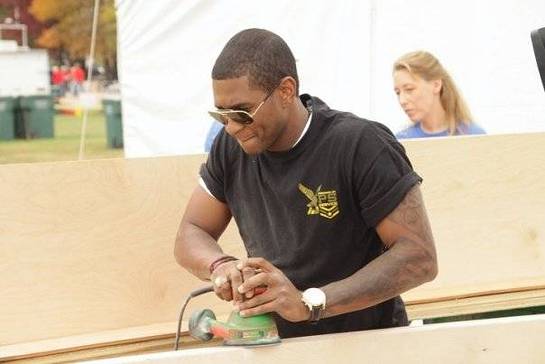 In addition to youth in Tennessee, young people ages 12 through 20 around the country are eligible to apply for a $500 Powered By Service grant by logging onto poweredbyservice.org or ushersnewlook.org. Grants will be awarded to exceptional service ideas so that youth are not only called to serve, but have the tools they need to create real change. For more information about Usher's New Look or Powered By Service, please visit the Web site at http://www.poweredbyservice.org or http://www.ushersnewlook.org.