By Myrlia Purcell on
Action hero Jackie Chan is once again flying through the air at high-speed to save the day.
Chan flew from the U.S. to Beijing on Saturday, April 3rd, and immediately recorded a song to raise money for people suffering from the devastating drought in southwestern China. He performed the song at a fundraising event that evening, helping to raise $29 million for victims.
Joining him at Saturday's fundraising event were stars from the Chinese mainland, Hong Kong and Taiwan, including Jiang Wenli, Na Ying, Andy Lau, Elva Hsiao and Chyi Yu. Some of the stars performed, while others volunteered to answer phones and collect pledges.
The severe drought has been plaguing Guizhou, Sichuan, Yunnan, Guangxi and Chongqing, leaving 18 million people without adequate water.
Jackie has been an advocate of water conservation for many years. Once when filming in an area with little water, he gave a child a piece of ice. The child had never seen ice before, and, frightened, threw it on the ground.
At a song dedication ceremony for the "Water Cellar for Mothers" project, held on April 4th by the All-China women's Federation, Jackie said, "This theme song calls for families and wealthy people in large cities to be more conservative with using water; it calls for people to be more aware of the regions that are short of water – the remote areas in the country. And I knew, without a second thought, that I needed to promote the cause."
Jackie also told everyone a short story, "A while back, when I was visiting Will Smith's house, before I left, I took all the unfinished water bottles to the backyard. Will Smith asked me what I was doing, and I told him that we need to conserve water. Afterward, Will said to me that he's going to do what I did and conserve water."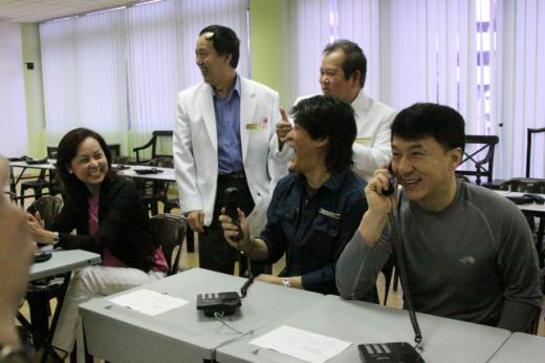 Jackie answering phones at Thong Chai hospital. Jackie became an ambassador for the hospital after learning that they provide their services to anyone in need, free of charge.