Celebrity cosmetic dentist Dr. Bill Dorfman – most recognized for captivating millions on the ABC hit show Extreme Makeover and currently a recurring guest co-host on The Doctors – will be honored by Friends of the Family on April 30, 2010 at the Beverly Hills Hotel for his exceptional work with families and children's charities.
Dr. Bill is also very passionate about various charitable organizations. He has worked with Garth Brooks and the Crown Council for years to help raise more than $25 million for Smiles for Life – a non-profit organization dedicated to helping seriously ill and disadvantaged children across the country. Additionally, he co-founded The LEAP Foundation – a charity helping high school and college students gain valuable life skills through mentorships and seminars and recently shaving his head on national Television after raising more than $120,000 for the Foundation. The father of three has also donated 100% of the proceeds from his New York Times Bestselling book, Billion Dollar Smile, directly to children's charities.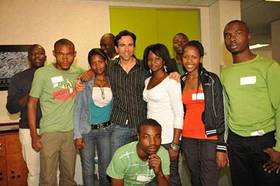 Recognizing Dr. Bill's philanthropic work and dedication to children and families organization, Friends of the Family will be honoring Dr. Bill and his activism at the "Families Matter Benefit & Celebration" at the Beverly Hills Hotel.
Friends of the Family is a comprehensive family resource center known for pioneering innovative, practical programs where families are recognized as central to a child's well being and are supported to build on their skills and strengths. Founded in 1972, the organization is a safety net of support for over 5,000 community members each year.
Better known as "America's Dentist," Dr. Bill has perfected the smiles of celebrities such as Usher, Nia Long, Julie Benz, Jessica Simpson, Niecy Nash, Britney Spears, Lindsey Lohan, Ozzy & Sharone Osbourne and the cast of "Desperate Housewives," among many others.
Find out more about the event at the Friends of the Family website.