Prince's Trust ambassadors Jenni Falconer and fiancé James Midgley have set the wheels in motion alongside Magic 105.4s Neil Fox for the youth charity's biggest mass participation event of the year, The Prince's Trust 2010 Palace to Palace bike ride.
The event sees 3,000 cyclists collectively ride 135,000 miles from Buckingham Palace to Windsor Castle, raising vital funds to get unemployed young people into work.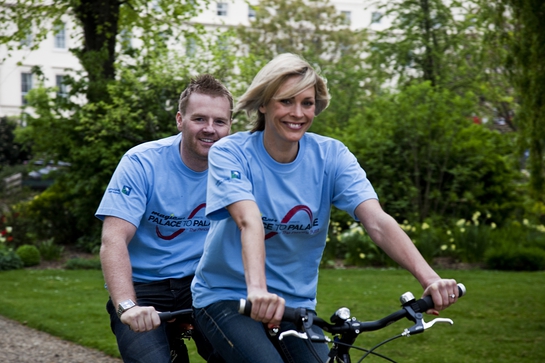 GMTV and National Lottery presenter Jenni will join an army of cyclists with fiancé James and television presenter Fern Britton in the hope of topping last year's whopping sum of £250,000.
Supported by Saudi Aramco, well-wishers embark on a stunning 45-mile route along the River Thames and through three royal parks. The last stretch through Eton takes cyclists home and dry into the shadows of Windsor Castle where they will be met by family and friends.
Jenni Falconer joked: "James and I plan to ride Palace to Palace on a tandem bike – I'll be in the driving seat, setting the precedent before we get married. Jokes aside, we're really looking forward to the day and to raising money to help disadvantaged young people through The Prince's Trust."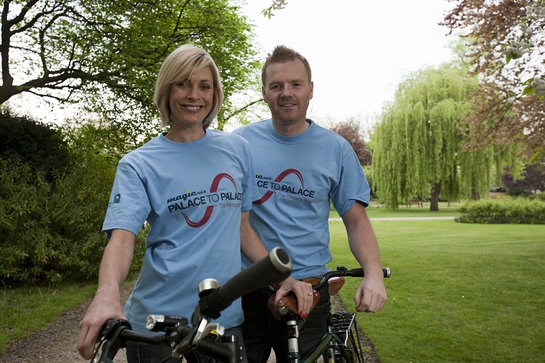 Dame Kelly Holmes MBE, who has previously swapped track for tyres by taking part in the ride, added: "The route is stunning and there's a great vibe about the whole day. Cycling along the Mall from Buckingham Palace and up the hill to Windsor Castle was really special for me. Money raised will support The Prince's Trust's incredible work with young people, enabling them to change their lives for the better."
Neil Fox, Magic 105.4's More Music Breakfast host added, "It's fantastic to be involved again this year. I am really looking forward to seeing the sites of London on the 45 mile ride, getting our listeners involved, as well as raising money to make a difference to the UK's young people"
2010 marks the fifth year of the annual fundraiser which will take place on Sunday 26th September. Other celebrities planning to take part include Magic105.4's Drivetime presenter Angie Greaves riding with Neil Fox , who will start persuading their two million Magic 105.4 listeners to support the event by taking part or sponsoring the Magic 105.4 team.
Cyclists are asked to pay a £30 registration fee and aim to raise at least £45 sponsorship money – £1 a mile.
For more information about Palace to Palace, or to sign up, visit www.princes-trust.org.uk/palace.
The Prince's Trust has helped more than 575,000 young people since 1976 and supports 100 more each working day.
Photos: Travis Hodges