Family, friends and fans of America Ferrera have come together to help the Emmy Award-winning actress meet her fundraising goal to build a school in Diassadeni village in the Sikasso District of Mali.
America launched her Build a School campaign on Facebook Causes last December, prior to her trip to the West African country as Save the Children's Artist Ambassador for global education.
Fans contributed to America's cause through Facebook, as well as through a New York City art auction hosted by the cast of ABC's Ugly Betty this past April.
Additional support came from America's family and friends, who gave donations to her school in lieu of birthday gifts last month.
"I'm so thankful for the support everyone has given to this project. My trip to Mali was a life-changing experience for me," said America Ferrera."I met parents and children who have very little in life but are dreaming big, yearning for a better future through education. I wanted to do my small part, and engage others in feeling that they could make a real difference, too."
Construction on the new school has begun and is expected to be completed by early summer. The new school, slated to open this October, will include three classrooms built to government standards, a headmaster's room and separate bathrooms for girls and boys. Donations also will go toward teacher training, school materials, a library and a water well.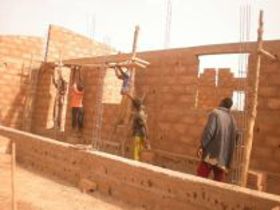 CNN 's Impact Your World this week features a segment on America Ferrera's efforts to help 72 million children in Mali and around the world realize their dream of going to school.
Source: Save the Children