Actor Matt Damon received Save the Children's Leadership Award at the annual Celebration of Hope event in Greenwich on Friday, May 21.
Damon was honored for his steadfast commitment to mothers and children in the poorest regions of the world. The benefit, which raised funds for Save the Children's newborn and child survival programs, was hosted by Ann Curry, NBC's Today Show and Dateline anchor. Other NBC attendees included Brian Williams, Meredith Vieira, Kathie Lee Gifford, Hoda Kotb and Jenna Bush Hager.
"I have bumped into Save the Children staff members around the world and think they are some of the most incredible people I have ever met," said Damon. "They are professional and passionate about protecting children in some of the most difficult and impoverished places."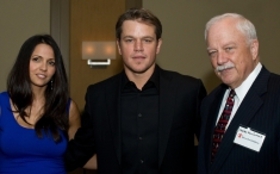 Almost 9 million children die every year before their fifth birthday from preventable and treatable illnesses such as pneumonia, diarrhea, malaria, and newborn complications. Funds raised at the benefit will support Save the Children's global effort to significantly reduce these numbers through proven, low-cost interventions like vaccinations, better newborn care practices and antibiotic treatment.
"These problems are very simple and identifiable," said Damon, "and so are the solutions."
Philip H. Geier, Jr., Save the Children Trustee, author and philanthropist, also received the Leadership Award.
Save the Children is the leading independent organization for children in need, with programs in 120 countries, including the United States.
Source: Save the Children