Julien's Auctions Summer Entertainment Auction will offer memorabilia never before offered for sale from one of the most beloved figures in science fiction history, Gene Roddenberry and the universe he created – Star Trek.
The sale will be held at Planet Hollywood Resort and Casino Las Vegas on Sunday, June 27th, 2010, and the Roddenberry Estate will donate all proceeds to charity. The assembled items include personal effects, furnishings, memorabilia, books and Star Trek related items from Gene and Majel Roddenberry's Bel Air home, where the couple lived. Julien's Auctions is offering a rare glimpse into the personal life of the man who created the world of Star Trek by selling items from his home including items from his library and office.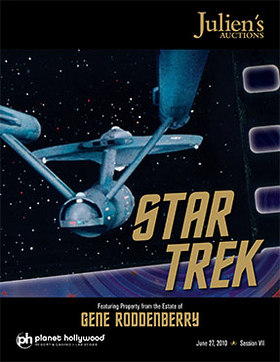 Highlights from Roddenberry's Bel Air home include: a Gene Roddenberry hand annotated script from Star Trek: The Next Generation (Est. $2,000/$3,000), costumes worn by Majel Barrett Roddenberry as she portrayed Lwaxana Troi in both Star Trek The Next Generation and Deep Space Nine (Est. $800/$1,200), a copy of "I Sing The Body Electric" inscribed to Gene Roddenberry by Ray Bradbury (Est. $1,000/$1,500), a Peabody award for Star Trek The Next Generation episode "The Big Good-bye" (Est. $400/$600), the remaining archive of Lincoln Enterprises Star Trek film clip collection (Est. $2,000/$3,000), cast bronze sculpture after Frederic Remington (Est. $2,000/$3,000), cast bronze figure after Auguste Moreau (Est. $600/$800), Steinway and Sons baby grand piano ($8,000/$10,000) and other fine & decorative art pieces.
In line with Gene Roddenberry's goal "to create a brighter future," all proceeds from the sale of Gene Roddenberry's items will be donated to The Roddenberry Foundation. The Roddenberry Foundation makes grants to support the four pillars of the Roddenberry Philanthropic Philosophy – Children, Education, Inspiration, and Environment.
"My father would be proud that his memorabilia will not only be enjoyed and cherished by Star Trek fans, but that the proceeds will benefit society on a larger scale," said Gene's son, Rod Roddenberry.
In addition to the Roddenberry estate items, William Shatner has also consigned a selection of property from his life and career with a portion of the proceeds benefiting the Hollywood Charity Horse Show. His passion for horses and philanthropy were united through his involvement with AHEAD With Horses, a therapeutic riding charity that gives physically and mentally challenged children the thrill of riding a horse—and boosts their confidence and self-esteem, often with life-changing results.
Leading the collection of William Shatner is his 2005 FXDC Dyna Super Glide Custom Harley Davidson (Est. $12,000/$14,000). Boldly go where no man has gone before… riding William Shatner's motorcycle; the first FX Super Glide was produced by Harley Davidson in 1971. Also included are his Golden Globe nomination certificates for Boston Legal (Est. $300/$500), "Rescue 911" pinball machine (Est. $1,000/$1,500), William Shatner's original "Walk of Fame" plaque when he received his star on the Hollywood Walk of Fame in May 1983 (Est. $150/$300) and various ephemera from his personal collection relating to Star Trek and other productions from his career.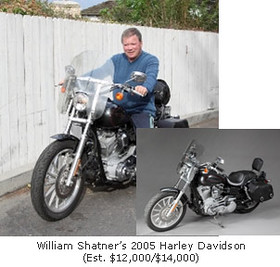 To commemorate this historic event, William Shatner will be available for photo ops and autographs on Thursday June 24th at Planet Hollywood Resort and Casino.
Learn more here.