AnnaLynne McCord and Kellan Lutz are asking fans to help out the St. Bernard Project in the Pepsi Refresh Challenge in hopes of winning $250,000 to help Katrina devastated families back into their homes.
Both AnnaLynne and Kellan have volunteered with the St. Bernard Project and it is a cause that is near and dear to their heart. The very first day he got Twitter, Kellan posted a picture of himself wearing a SBP shirt, and this morning AnnaLynne sent in a video urging voters to go online and vote for the St. Bernard Project in the Pepsi Refresh Challenge. With this $250,000, the St. Bernard Project will also be able to expand their Center for Wellness and Mental Health to provide vital mental health services to victims of the oil spill and provide jobs for out of work fishermen doing construction on Katrina-ravaged homes. Voting started August 2nd and will go until August 31st.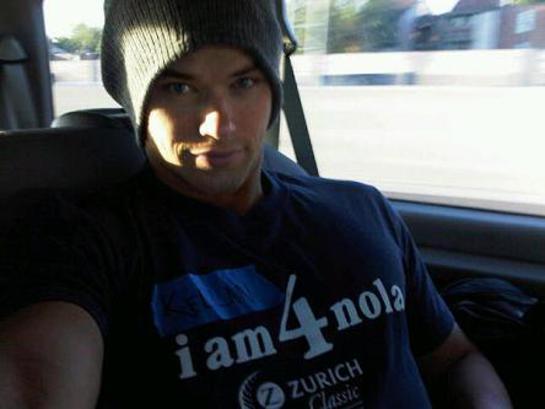 Watch AnnaLynne's video here. For more information in the St. Bernard Project, visit www.stbernardproject.org, and vote every day for SBP at www.refresheverything.com/sbp!
AnnaLynne is also asking her fans to help her other favorite charity, The Blind Project, through Twitter.
"I'm so thankful for all the amazing tweets and inspirations and ideas on how to raise money… I'm going to ask you guys to help me out," she says. "I have a goal to reach this year for The Blind Project, it's $60,000."
The Blind Project helps women rescued from the commercial sex trade.
"I know it sounds a lot but I have over 25,000 fans now on Twitter and you guys are so amazing I thought maybe you could help me out a little bit. If everyone donates just $2.50 we could reach my goal of $60,000. I know that doesn't sound like a lot of money – $2.50 – but if everyone joins together it will help us at TBP reach the goal for 2010 and that would make me so very, very happy.
"If you guys could possibly help us out that would totally make my year and I love you so much. Thank you for all your support."
Last year, AnnaLynne talked exclusively to LookToTheStars.org about her support of both the St. Bernard Project and The Blind Project.