By Delinda Lombardo on
Canadian guitar-maker Carparelli has created a series of 10 guitars, each painted by well known artists, to be auctioned off to raise money for 10 charities.
The first of these unique guitars – to be auctioned later this year by Christies – was painted by British artist Damien Hirst. The guitar is expected to fetch close to $100,000 to benefit the War Child charity.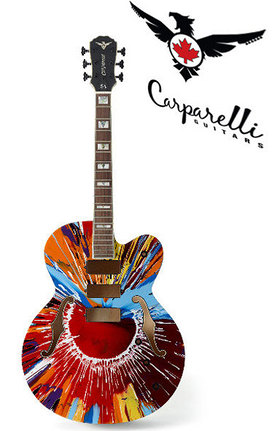 A second guitar, painted by American artist Jim Warren, and signed by Mike Love and Bruce Johnston from the Beach Boys and Kris Kristofferson, will also be sold to raise funds for Amnesty International.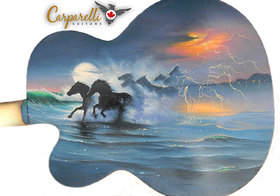 Find out more here.
War Child International is a network of independent organisations, working across the world to help children affected by war. War Child was founded upon a fundamental goal: to advance the cause of peace through investing hope in the lives of children caught up in the horrors of war. War Child works in many different conflict areas around the world, helping hundreds of thousands of children every year.