By Delinda Lombardo on
Actress Jenna Fischer ("The Office") hosted the 3rd Annual Fur Ball at the Skirball in Los Angeles this weekend, which raised funds for Kitten Rescue's programs and the Kitten Rescue Sanctuary, a Los Angeles-based non-profit organization dedicated to saving homeless and abandoned cats and kittens.
"I started working with them [Kitten Rescue] in 2001," the former volunteer Fischer said. "I worked with them for two or three years as a foster parent. You open up your home for a cat or kitten that's been rescued from a shelter or abandoned, and you rehabilitate them and treat them like your own pet for a short period of time, and then the organization helps you find that cat a permanent home."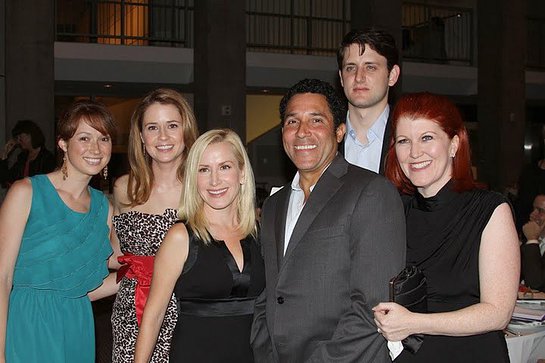 Attendees included "The Office" cast-mates Angela Kinsey, Ellie Kemper, Oscar Nunez, Kate Flannery and Zack Woods, as well as Tricia Helfer & Katee Sackhoff ("Battlestar Galactica"), Rich Sommer ("Mad Men"), Casey Wilson, Mark Derwin ("The Secret Life of an American Teenager"), and Romi Dame ("Hannah Montana").
The event featured live entertainment, a film presentation about Kitten Rescue, a silent auction, and awards for special members of the Kitten Rescue community. Guests enjoyed a vegetarian dinner. It was the second time Jenna has hosted the event.
Jenna talked to guests about Dunder and Mifflin, two cats she helped rescue from beneath her wardrobe trailer last year. "I still get updates from the girl who adopted them!"
The organization rescues more than 1,000 cats and kittens a year, and makes sure its animals have a full slate of care, including spaying and neutering, vaccines and microchips.
PHOTOS: Kendal Rowe