By Melissa Charbonneau on
On a whirlwind tour through Washington, D.C., Oscar-winning actor Denzel Washington yesterday spoke to reporters at The National Press Club to spotlight the high school dropout crisis in America.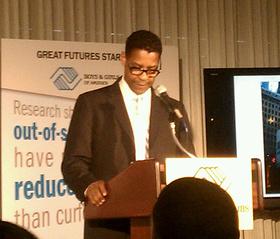 Washington, national spokesman for the Boys' and Girls' Clubs of America (BCGA), appeared with Grammy Award winner Ashanti and BGCA's National Youth of the Year Ramona Dixon to help launch the nonprofit's new slogan "Great Futures Start Here" and to advance its goal to increase graduation rates.
"We want every Boys & Girls Club member to graduate from high school on time, prepared, with the attitude and confidence to reach their full potential, and that is to achieve a great future. It's a big, even bold, objective, but one we must pursue."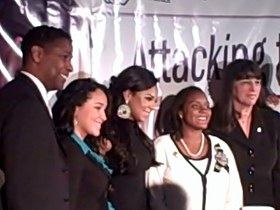 Washington said the nation is missing a tremendous opportunity with its youth. According to BGCA, 1.3 million students in the Class of 2010 failed to graduate. One-third of America's children do not graduate from high school, and every 26 seconds another teen drops out of high school.
The actor – who typically shuns the spotlight and public speaking – took the podium to call for a national response to the dropout problem. Washington said children and youth need more programs like BGCA during out-of-school hours. He appealed for support of programs that already exist to increase operating hours and academic enhancement efforts. He urged every American to do his or her part by volunteering, serving on boards, or making financial contributions.
Washington, who's been the organization's spokesman for 18 years, is also an alumnus of the program. He recalled the impact one BGCA worker had on him as a young boy growing up in Mount Vernon, New York.
"He said to me on my way out the door, he said, 'Young man, you know, with the smarts you have, you can do anything you want to do.' And it was maybe a small thing to say, but I never forgot it," Washington said. "I'm 55 years old, but I never forgot it. I was like, 'Wow. I hadn't thought of that. I can do anything I want to do.' So the things that we say, the encouragement that we give, the positive things that we share with these young people – I'm here to tell you — they last a lifetime."
For more information on Washington's efforts with BGCA, visit www.bgca.org.