On October 11, at the Waldorf-Astoria Hotel in New York City, Billie Jean King, Women's Sports Foundation Founder, and Mary Carillo, sportscaster and former professional tennis player, hosted the Women's Sports Foundation's 31st Annual Salute to Women in Sports awards dinner.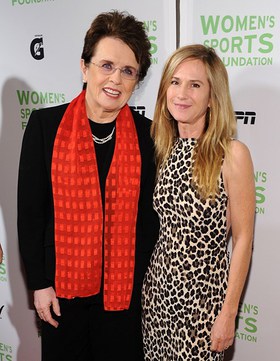 Sports fans and champion athletes from Jessica Mendoza and Laila Ali to Annika Sorenstam and Michelle Kwan gathered to recognize and honor talented female athletes who, through their accomplishments, have been inspiring role models for girls and women worldwide. As part of the celebration, Women's Sports Foundation CEO Kathryn Olson, announced that the foundation has been chosen as the "Official Charity of espnW," the soon-to-be-launched digital arm of ESPN that will serve, inform and inspire the female athlete and fan.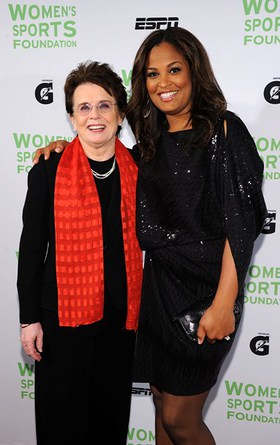 "It is an absolute honor to be chosen as the Official Charity of espnW," said Kathryn Olson, CEO of the Women's Sports Foundation. "We applaud and support espnW in their effort to tell the story of female athletes and help the Women's Sports Foundation to continue our mission of advancing the lives of girls and women through sport and showcasing female athletes as individuals with limitless potential."
The Women's Sports Foundation will work closely with espnW, expanding support of programs for girls and women by sharing content across joint media assets and driving awareness for specific Women's Sports Foundation programs. Top programs include GoGirlGo!, which uses sport and physical activity as an educational intervention for young girls; Travel & Training Fund, a fund that provides financial assistance for coaching, specialized training and equipment for female athletes; and a future media-based campaign featuring celebrity dads with their daughters which will emphasize the importance of sports participation and family involvement. espnW will share content with the Foundation's SHE Network, launching in early 2011, and ESPN RISE for Girls – which serves high school girl athletes – will work closely with the foundation on target initiatives.
The espnW announcement was just one pinnacle in a phenomenal tribute to women in sports and the girls they inspire. The awards dinner celebrated the accomplishments of outstanding female athletes who have made their mark on the world of sports in 2010.
In addition to recognizing women in sports and their supporters, the Women's Sports Foundation's Annual Salute to Women in Sports gala helps amplify its mission, promote gender equality in women's athletics, and raise funds to support programs that help girls become physically active.
Photos via AllisonPR.com