By Tim Saunders on
Arctic Monkeys drummer Matt Helders has joined fellow indie artists such as The Libertines' Carl Barat, Super Furry Animals' Gruff Rhys and Babyshambles' Drew McConnell to form a charity supergroup.
The Bottletop Band will donate all of the profits from their debut album, Dream Service, to education and employment projects around the world. The album will be released in April, 2011.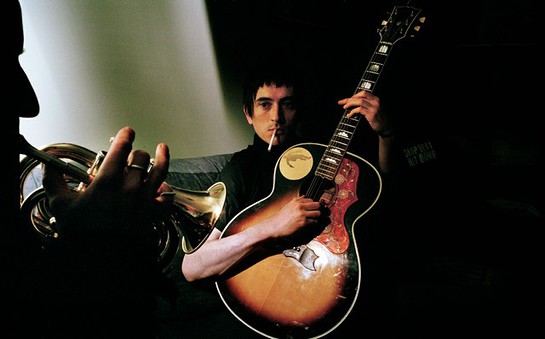 According to the band's website: "The Bottletop Band is a cross-pollination of the sounds and stars of Brazilian music with a host of like-minded British musicians. In 2008 Bottletop approached the UK clothing brand Fenchurch with the idea of an interchangeable lineup of leading musicians collaborating on either side of the continent, with the aim of producing a groundbreaking cross-cultural record in support of Bottletop. Bottletop set up recording sessions at Dean Street Studios in Soho with a wide variety of musicians to record a selection of ideas together under the stewardship of producer Jagz Kooner.
"The loops and live jams were then sent across to Rio de Janeiro for local artists to add their ideas. From here, the first Bottletop Band record was born. The tracks were sent back and forth between the two countries, in a flurry of studio sessions with a host of singers, bands and session musicians until eventually resting with super producer Mario C Jr, in LA, having overseen the entire project, as he eventually pieced together the final material and mixed the tracks to create the full 10 track album Dream Service.
"The Bottletop Band is a means of raising funds and awareness through credible musical collaborations and is the latest musical initiative pioneered by the charity – it follows in the wake of the hugely successful Sound Affects album series. The first release, Africa was comprised of rare afrobeat remixed by Paul Oakenfold and Quantic amongst others. The follow-up Brazil includes exclusive remixes by Fatboy Slim and Jazzanova, and garnered praise from The Independent, Bob Geldof and Michael Eavis."
Other artists include Eliza Doolittle and The Charlatans' Tim Burgess.
The Bottletop Band has just released their first single, The Fall Of Rome, which can be downloaded here. To watch a video of the new song, click here.