By Tim Saunders on
Music stars from opposite sides of the spectrum have shown their support for PETA in new campaign ads for the animal charity.
Justin Bieber has posed for a new poster encouraging compassion for animals.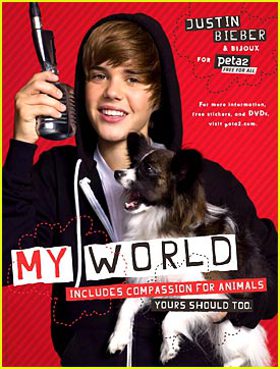 "We moved to a city where we didn't really know anybody, so I kinda wanted a friend around. And Sam was kinda like that friend," Bieber explains. "My Dad and I used to go and hang out … just go and visit the different animals and stuff. It's really important that people adopt. I really encourage going out to an animal shelter or a place where you can get a dog that has been abandoned or doesn't have a home."
The teenage heartthrob is a world away from former Guns N' Roses bassist Duff McKagan, who has posed with his wife Susan Holmes (Married To Rock) as part of PETA's "Ink, Not Mink" campaign.
"I think everyone should share responsibility in bringing more awareness that, hey, [fur's] not necessary, it's out of fashion, it's completely immoral to the animals," explained Susan.
According to PETA: "Susan used to wear fur—but once she learned that animals who are killed for their fur are beaten to death and often skinned alive, she had a change of heart. This revelation inspired her and Duff to take part in the "Ink, Not Mink" ad series so that they could spread the word to others."