WWE Superstar John Cena has racked up victory after victory during his successful career in sports entertainment. More importantly, he has quietly achieved another impressive record: granting the wishes of 200 children with life-threatening medical conditions through the Make-A-Wish Foundation.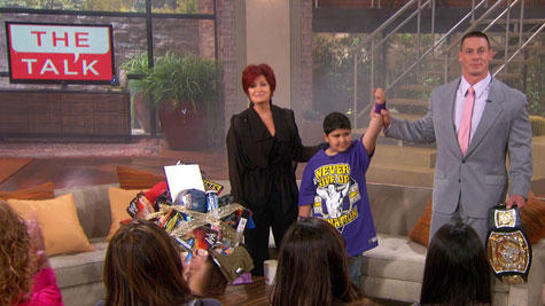 Cena, who also serves as a Wish Ambassador for the Foundation, granted his 200th wish on CBS's "The Talk" television program on Thursday, Dec. 9 (airing Dec. 10). Cena surprised the child, 9-year-old Shayan of Agoura Hills, Calif., on the program and invited him to attend Monday Night Raw in New Orleans as part of his wish.
Cena reached the 200th wish milestone in just six years, joining NASCAR drivers Jeff Gordon and Dale Earnhardt, Jr. and former WWE Superstar Hulk Hogan as celebrity wish granters who have fulfilled 200 wishes. Overall, World Wrestling Entertainment has granted more than 3,500 wishes with the Make-A-Wish Foundation in the past 25 years.
"It's an honor to be recognized by the Make-A-Wish Foundation, but this isn't about me. It's about giving kids a chance to smile again and receive attention for something other than their medical condition," Cena said. "They just want to be treated like normal kids, and anytime I can help them enjoy their moment and feel hope, I'll be there."
"What stands out about John is his enthusiasm for meeting kids virtually anytime, anywhere," said David Williams, Make-A-Wish Foundation of America president and chief executive officer. "It's really a testament to his desire to make every wish experience unique for the kids, to bring them the joy they deserve and to make them feel like they're the superstar. We thank John for his remarkable dedication to our mission and look forward to him granting many, many more wishes."
While his wish total is noteworthy, the variety of wishes he has granted over the years is equally as impressive. Cena has entertained scores of wish kids at WWE's Monday Night Raw, WrestleMania and other WWE events. He has also met wish kids at such locations as movie sets, amusement parks, and video-game stores, as well as surprising them as a waiter at a restaurant, a server at an ice cream shop and even "bumping into them" in a convenience store. In 2009, Cena received the Foundation's Chris Greicius Celebrity Award for his dedication to granting wishes.
Cena also serves on the Make-A-Wish Foundation's Wish Ambassador Council and assists in expanding wish-granting outreach across the United States. Led by basketball legend and Chief Wish Ambassador Michael Jordan, the council is composed of people passionate about the Foundation's work, including the Make-A-Wish founders, celebrities and national sports figures, former wish children, wish parents and other Foundation supporters.