Earlier this week, the Breast Cancer Research Foundation (BCRF) hosted their annual Hot Pink Party, at The Glasshouse in New York City.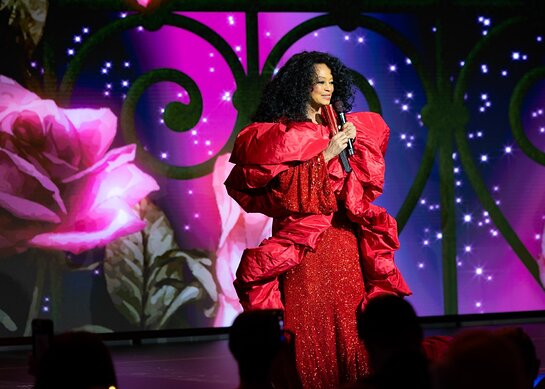 The evening raised a record-breaking $10.3 million to support BCRF's global legion of 255 scientists pursuing high-impact, lifesaving breast cancer research.
Hosted by Elizabeth Hurley, Global Ambassador of The Estée Lauder Companies' Breast Cancer Campaign, the evening featured an unforgettable concert by the legendary Diana Ross, who performed "I'm Coming Out," "Stop in The Name of Love" and "Ain't No Mountain High Enough." The evening honored BCRF Board of Directors Co-chair Kinga Lampert with the inaugural Evelyn H. Lauder Spirit of Philanthropy Award; and Margaret Flinter with The Roslyn and Leslie Goldstein Unsung Hero Award, presented to her by Nicole Seagriff.
Other notable guests included: Candace Bushnell, Lydia Fenet, Nina Garcia, Desiree Gruber, Jenna Leigh Green, Arianna Huffington, Jill and Harry Kargman, Monique Lhuillier, Gretta Monahan, Emma Myles, Paul Shaffer, Anastasia Soare, Ingrid Vandebosch and Jeff Gordon, Vera Wang and others.
Breast cancer recently became the most common cancer worldwide for the first time, underscoring the rising and urgent need for research. BCRF is proud to be the largest private funder of breast cancer research in the world and the highest rated breast cancer research organization in the U.S.
The event experience was made possible with generous support from Rafanelli Events and Winston Flowers. Honorary Co-chairs included Sir Elton John and David Furnish; Judy and Leonard Lauder; and, Anthony von Mandl. Gala Steering Co-chairs included: Dee and Tommy Hilfiger; Kinga Lampert; and, Aerin Lauder. Lead Gala Co-chairs included: Jody and John Arnhold; Tatianna and Peter Cancro; Valentine and Patrick Firmenich; Amy and Brian France, Roslyn Goldstein; Terri and Jerry Kohl; Lori Kanter Tritsch and William P. Lauder; Adrienne and Dan Lufkin; Jeanne Sorensen Siegel and Herbert J. Siegel; Marilyn and Jim Simons; and, Candace King Weir. Gala Co-chairs included: Leslie Bluhm, Sandra Brant, Patsy and Patrick Callahan; Susan Crown; Mary-Ann and Fabrizio Freda; Nina Garcia; Marjorie Reed Gordon; Louise Camuto Grieder; Mellody Hobson, Shelly and Howard Kivell; Michael Kors, Jane Lauder, Jo Carole and Ronald S. Lauder; Laura and Gary Lauder; Dominique Lévy, Jane and Daniel Och; Margaret Paul; John Paulson; Bryan Rafanelli; Lois Robbins and Andrew Zaro; John Rosenwald; Arlene Taub; Alice and Thomas Tisch; Lizzie and Jonathan Tisch; Merryl and James Tisch; Ingrid Vandebosch and Jeff Gordon; and Vera Wang.