Global Green USA celebrated its 8th Annual Pre-Oscar party on Wednesday night at the Avalon Hollywood, raising funds and awareness for Global Green's national initiatives to fight climate change.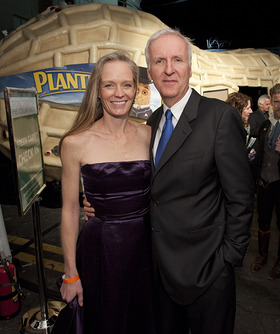 More than 1400 people attended the star-studded event featuring musical performances by Black Rebel Motorcycle Club, Best Coast, and "Portugal. The Man". "Greener Cities for a Cooler Planet" was the theme of the evening which benefited Global Green's initiatives to promote smart solutions to climate change by creating healthy, green communities.
Global Green also unveiled their Model Carbon City Index tool, a first of its kind Web tool designed to benchmark cities efforts to reduce carbon emissions and motivate citizens to advocate for smart climate policies at the local level.
"Cities account for 70% of carbon emissions worldwide. The Carbon City Index will create an engaged group of activists that hold public officials accountable for their city's carbon emissions and drive lasting and impactful greenhouse gas policy changes across the U.S.," said Matt Petersen, Global Green's President and CEO.
For the second year in a row, Suzy Amis Cameron unveiled the winning green dress design as part of her Red Carpet Green Dress Contest to benefit Muse Elementary School. Also for the second year, Global Green USA featured the new Chevy Volt electric vehicle with extended range.
Celebrity supporters in attendance included James Cameron, Maggie Grace, Roland Emmerich, Alison Brie, Radha Mitchell, Dennis Haysbert, Enrique Murciano, James Van Der Beek, Frances Fisher, Daphne Zuniga, as well as Oscar nominee Lucy Walker (Wasteland).
Celebrities walking the Green Carpet were some of the first to try The Carbon City Index, a model carbon pollution index for the city of Los Angeles. The City Carbon Index is envisioned to be similar to the Smog index, however, in addition to grading Los Angeles on its efforts to reduce carbon emissions, Global Green is launching a campaign for Angelenos (and citizens in cities across the country) to advocate for smart climate policies within their own cities while changing their own behavior to reduce carbon pollution. Since cities are responsible for more than 70% of global warming emissions, cities are a critical solution to our climate crisis and help promote the initiative to a global audience.

Guests were treated to the official unveiling of the eco-friendly gown that won Suzy Amis Cameron's Red Carpet, Green Dress Competition. Samata Angel from London, England won the competition and was recognized by Suzy and James Cameron who also spoke about their passion for creating green schools and healthy learning environments for kids.
While some celebrity guests were driven to the event in Chevy Volts, all celebrity guests were treated to an up-close and personal look at the vehicle alongside the green carpet. The Chevy Volt is an electric car that offers a total driving range of up to 379 miles. With a full charge, the Chevy Volt can provide between 25 – 50 miles of pure electric, emissions-free driving.
Global Green USA – the American arm of Mikhail Gorbachev's Green Cross International was founded by Diane Meyer Simon in 1993. For the past seven years, Global Green has collaborated with the Hollywood community to raise global awareness of Smart Climate Solutions — from celebrities driving green cars to the Oscars, to creating affordable green homes and schools, buying green products, and voting for green political leaders. Global Green is the only national environmental group headquartered in Southern California and has offices in New Orleans, New York City and Washington, DC.