Women In Film, LA (WIF) raised glasses of Perrier-Jouët Grand Brut Champagne to honor and celebrate all of the women nominated for a 2011 Academy Award – those who have excelled both in front of and behind the camera – on Friday, February 25.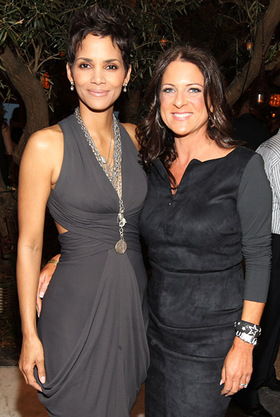 Women In Film is a non-profit organization dedicated to helping women achieve their highest potential within the global entertainment, communications and media industries and to preserving the legacy of women within those industries. Founded in 1973, Women In Film and its Women In Film Foundation provide members with an extensive network of contacts, educational programs, scholarships, film finishing funds and grants, access to employment opportunities, mentorships and numerous practical services in support of this mission. In the independent film world, WIF focuses on assisting female independent filmmakers who have exhibited advanced and innovative skills, specifically through its Film Finishing Fund and award-winning PSA Program.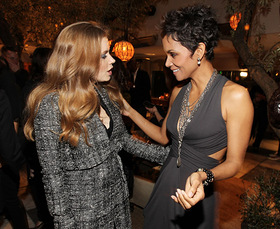 Guests at the event – held at the Roof Garden at Soho House West Hollywood – included hosts Halle Berry and Cathy Schulman, as well as Amy Adams (The Fighter), Melissa Leo (The Fighter), Hailee Steinfeld (True Grit), Jacki Weaver (Animal Kingdom), David O. Russell (The Fighter), Pamela Martin (The Fighter), Darla K. Anderson (Toy Story 3), Celine Rattray (The Kids Are All Right), Alix Madigan-Yorkin (Winter's Bone), Lucy Walker (Waste Land), Jenny Beaven (The King's Speech), Judy Farr (The King's Speech), Sandy Powell (The Tempest), Stephanie McMillan (Harry Potter & The Deathly Hallows: Part 1), Audrey Marrs (Inside Job), Jennifer Redfearn (Sun Come Up), Karen Goodman (Strangers No More), Samantha Waite (Wish 143), Trish Adlesic (Gasland) and Sara Nesson (Poster Girl), Kate Walsh, Jennifer Morrison, Brenda Song and many more.
Guests were treated to a gift that toted all the classic MAC Cosmetics favorites a girl can't live without hand selected by Director of Makeup Artistry, Gregory Arlt, a "Somebody Loves You" coaster good for a complimentary blowout from Drybar, LA's hottest blow dry only bar, a set of MaxMara bracelets and a mini take-home bottle of Perrier-Jouët.