By Tim Saunders on
Some of the world's greatest tennis players will swap their tennis balls for soccer balls in Miami tomorrow, March 23, when they take part in a celebrity charity football game to raise money for victims of Japan's tsunami.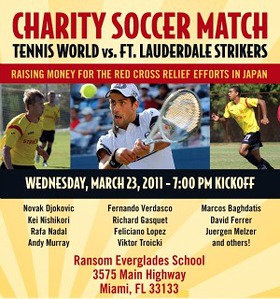 Rafael Nadal, Andy Murray and Novak Djokovic are some of the stars who will be out in force against the Fort Lauderdale Strikers on March 23. Players will then attend a fundraising dinner later in the evening. Proceeds from the events will go to the American Red Cross.
The match takes place at 7:00 pm on Wednesday at Ransom Everglades School, Miami.
Find out more here.