Celia Imrie, much-loved British actress and star of stage and screen, has officially launched a £1M public appeal for funds to create a new lifeboat station in Cowes.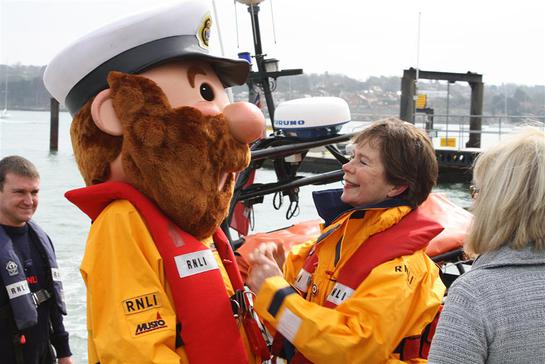 The leading British actress, well known for her work Nanny McPhee, Acorn Antiques and Dinnerladies, with Victoria Wood, is the patron of the appeal, which will lead to a greatly improved lifeboat station serving the Solent.
Celia was escorted by lifeboat from the current station in Shepards Wharf marina to the new building – the old Custom House. She told an audience of RNLI supporters, fundraisers and guests that she was delighted to be the patron the Cowes Lifeboat Station Appeal.
Dressed in the brightly coloured protective clothing that is standard issue kit for volunteer lifeboat crew members, Celia immediately charmed the waiting crowd: 'I'm absolutely thrilled to be here today, and wearing this kit. Obviously they don't have many people with chests because this is mighty tight!'
She went on to say: 'The current station is a changing room, an office, a classroom, so they need this new station. All the crew are total volunteers, and it is absolutely wonderful to think they are going to have a new station nearer the Solent. Those vital four minutes when they have to answer a call immediately are going to make them even faster to launch.'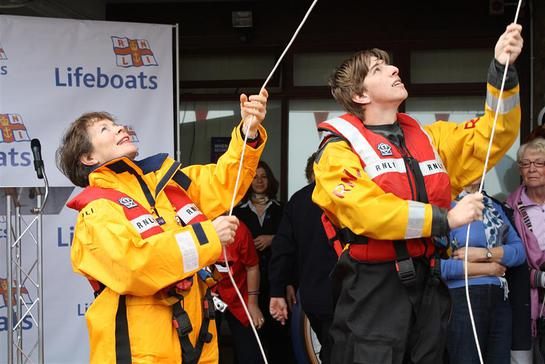 The current Cowes lifeboat station is a small, temporary facility within Shepherds Wharf marina, but the RNLI plans to refurbish the old Custom House building, near the mouth of the River Medina. This location will reduce the lifeboat launching time by four minutes, allowing the crew to reach casualties more quickly, which in turn could prove crucial in saving lives out at sea.
Celia continued: 'To get people to do things and give up their time for nothing, and risk their own lives, is wonderful and I am so proud to be involved with the crew today. I am so in admiration and am very proud to be the patron of this appeal.'
Celia – who also starred in blockbuster British feel-good film, Calendar Girls – agreed to come on board as she has had a home in Cowes since 1989, and was keen to lend her support for the charity that saves lives at sea. She said: 'I am aware that many islanders have already donated towards another RNLI appeal for Bembridge in recent years; for the Cowes appeal, we hope to entice supporters from the sailing fraternity. There are many people who, like me don't live permanently in Cowes, but visit here regularly for its beauty, escaping from London, all year round sailing, or just for the famous Cowes week and the fireworks.
'As Cowes is the sailing 'capital' we hope that all those who arrive by boat to the town and its surrounding waters will see the importance of this appeal and help us achieve the £1M target.'
For more information or to donate to the RNLI Cowes Lifeboat Station Appeal, visit www.rnli.org.uk/cowesappeal.
Photos via RNLI