By Tim Saunders on
Bear Grylls is no stranger to overcoming adversity in the wild, but in his new book – "A Survival Guide For Life" – the TV adventurer shows us how his hard-won skills can be adapted for those of us who aren't usually found parachuting into dangerous situations, eating bugs and sleeping on mountaintops.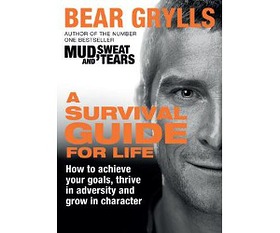 "A Survival Guide For Life" lets us into the mind of former SAS soldier, honorary Lieutenant Commander of the Royal Navy, author of 11 books and TV host Bear Grylls, whose Man Vs Wild series has reached 1.2 billion viewers in over 200 countries. The lessons he has learned have been hard-earned, his tales are inspiring. And in his new book, he shares some of his secrets to achieving goals and thriving in adversity.
Bear Grylls' expeditions have raised millions of dollars for children's charities. He is Chief Scout to the Scouting Association, an Ambassador for Global Angels, Vice President for the JoLt Trust – which takes disabled and disadvantaged children on expeditions – and a supporter of Comic Relief, the Royal National Lifeboat Institution, Hope and Homes for Children and the ONE Campaign. Giving back is an important part of his life – a theme he explores and explains in his book.
Faith is also high on the adventurer's agenda in the book – he uses his favorite quotes from the Bible to draw strength from. The book also includes quotes from many of Bear's heroes, including Winston Churchill, Edmund Hillary, Warren Buffett and even Harrison Ford!
"A Survival Guide For Life" is an easy read, and shows us how to seize every moment and opportunity to live life more fully. It is a guide to how to make every day an adventure, how to motivate ourselves when the odds stack up, and how to weather the storms life seems to throw us every day.
"It is there somewhere inside you: the heart of a survivor. Courage. Tenacity. Strength. So don't shy away from hard times, they are your chance to shine."
The book is available at Amazon.co.uk and Amazon.com.