When he's not shaving Conan's beard, appearing on The Office and playing George W. Bush and talking about gophers, Will Ferrell takes time to use his funny powers to do some good.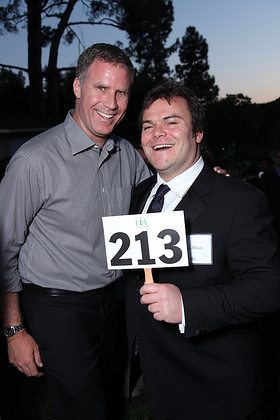 Will Ferrell and Jack Black
On Saturday, April 30, 2011, Will Ferrell and wife Viveca Paulin-Ferrell hosted fundraiser event for the organization Room to Read at their home high in the Hollywood Hills. This was the first charity fundraiser the Ferrell's have personally hosted at their house.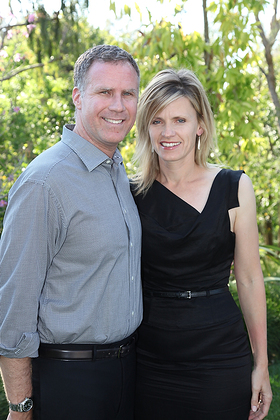 Will Ferrell & Wife Viveca Paulin-Ferrell
Viveca along with event co-chairs, Heidi Saffari and Lindsay Berger Sacks, invited their friends and over 200 people turned out for an evening filled with familiar LA faces to raise money to support Room to Read, a global organization promoting literacy and education for girls across the developing world.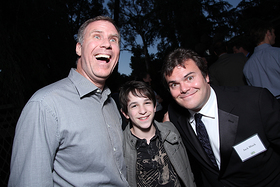 Will Ferrell, Zachary Gordon, Jack Black
With Will providing the opening act, Viveca serving as auctioneer along with John Wood, founder and board co-chair of Room to Read, close to $300,000 was raised through a raise the paddle event; funds generated from the auction will support the building of four new schools, nine new libraries, 10,000 children's books published in local languages and 256 years of girls' education!
Guests who raised their paddles included Jack Black, Molly Shannon, Zachary Gordon, Andy Richter, Amy Brenneman, Michael Pena and Fred Savage.
The Ferrell's, Berger Sackses and Saffaris, along with the other host committee members hope to make this an annual event for the Los Angeles community in order to raise awareness about Room to Read among Hollywood and promote the great work the organization does to change the world through education.
Room to Read is a global organization seeking to transform the lives of millions of children in the developing world by focusing on literacy and gender equality in education. Founded on the belief that World Change Starts with Educated Children, Room to Read works in collaboration with local communities, partner organizations and governments to develop literacy skills and a habit of reading among primary school children and to ensure girls have the skills and support needed to complete their secondary education. Since 2000, Room to Read has impacted the lives of more than five million children in Asia and Africa and aims to reach 10 million children by 2015.