The Jarvis Green Foundation's wine tasting gala, which benefits disadvantaged single mothers in low income areas, comes to Baton Rouge later this month.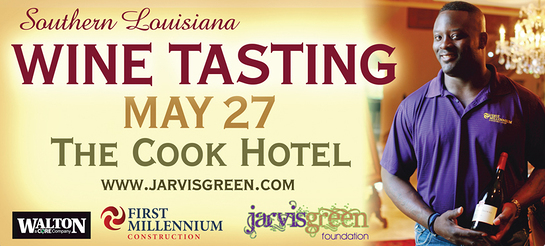 These superwomen take on enormous responsibilities to raise and shape the lives of precious children alone. Despite each heart wrenching personal story and journey, their common key to success is not only providing for their children but also not giving up, despite challenges and barriers. In an effort to help make these families' dreams a reality, the Jarvis Green Foundation hosts various events and fundraisers.
"As athletes we need to think twice about the decisions we make to help the community," said Jarvis Green, ormer 2x-Superbowl Champion, New England Patriot and current Houston Texan. "So many people invest time in helping to develop an athlete and support that person. So the least we [athletes] can do is give back. You paying forward is giving back what's been invested in you."
The evening's festivities at the Cook Hotel/Lod Cook Alumni Center will feature a live band, gourmet dining, fine wines, a raffle and a silent auction.
Friday evening May 27th 7-11pm, patrons will enjoy various wine pairings from Treasury Wine Estates while sampling international and southern cuisine catered by Unique Cuisine of Lod Cook Center. In addition, live music will be provided by the Rat Pack Band featuring Liza Minnelli, jokes by comedian D'lai and other performances such as X-tremetalent caricature, Elvis Statue and Jester Juggler.
Jarvis will be joined by former LSU and NFL players and coaches such as Corey Webster, Bradie James, Kyle Williams, Randall Gay, Alan Faneca, Kevin Faulk, Glenn Dorsey, Tyson Jackson, former All-Pro RB Jamal Anderson, Brandon Harris and more. Celebrities such as Kalenna of Diddy Dirty Money, R&B songstress Stefani Vera and film producer Jason Hewitt will also attend.
Growing up in a two parent household in Louisiana, Jarvis came to appreciate the strength and sacrifice many of these single mothers make as he saw through his friend's experiences. Jarvis's foundation selected its first recipient in 2005, Michelle Jefferson, a New Orleans native who lost everything during Hurricane Katrina. On behalf of the foundation, Jarvis flew Michelle to New York to appear on the Montel Williams Show and surprised her with much-needed financial assistance among other gifts. The surprises didn't stop there for Michelle as Jarvis surprised Michelle on ESPN Jim Rome to shower her with more gifts and support.
Tickets can be purchased through the foundation's website and auction items can be viewed here.