Fans of the Red Hot Chili Peppers listen up! Here is the chance to get your hands on a bass guitar tagged by Flea and attend a private bass lesson with the legendary musician for a good cause.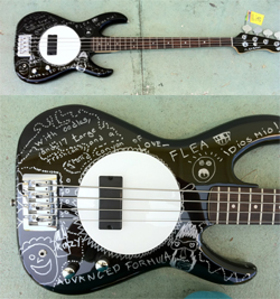 Proceeds from the auction will benefit The Style Wars Restoration Fund through Public Art Films Inc., an organization dedicated to producing films and videos about grassroots cultural expressions.
The purpose of the Style Wars Restoration Project auction is to raise awareness and monies to restore the original negative of the first hip-hop documentary. Style Wars isn't only the first film of its kind capturing the spirit of the original artists who gave birth to this would-be global movement, it's also a historical document and portrait of New York City that captures its dramatic decline in the last century and the creative spirit of the youth who gave birth to a worldwide cultural movement.
As well as Flea's guitar, a host of other celebrities have also donated items to the charity auction, including Brad Pitt, James Franco, Spike Jonez, Shepard Fairey and many others.
Find out more about the project and the auction here. But be quick, the auction ends June 11.