By Tim Saunders on
The UK's largest charity for the deaf and hard-of-hearing is celebrating its 100th birthday by changing its name – and a host of celebrities are sending birthday wishes.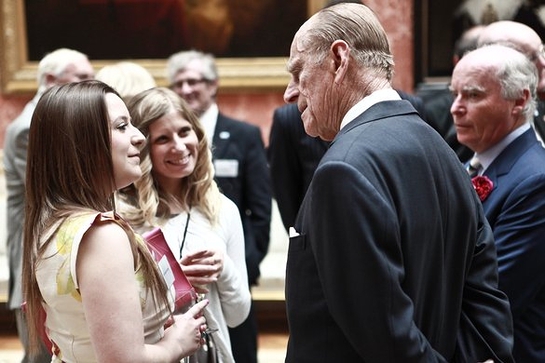 Action on Hearing Loss is the new name of RNID, but their aims are still the same – they offer a range of services for people with hearing loss, including people who are proufoundly deaf and they aim to achieve a radically better quality of life for people with all levels of hearing loss throughout the UK. Their work includes campaigning and lobbying; providing training, products and equipment; and medical and technological research.
Following a birthday bash at Buckingham Palace last week with charity patron Prince Phillip, Duke of Edinburgh, a number of stars have sent their support to the charity.
Stephen Fry: "Have you heard? It's Action on Hearing Loss 100th birthday. Congratulations to them for all they do in raising deaf awareness and helping those with hearing loss."

Joanna Lumley: "Happy birthday to Action on Hearing Loss. Reaching 100 years old is a great achievement, and the charity really deserves credit for improving the lives of deaf and hard of hearing people. Thanks for all the tremendous work you've done so far on raising deaf awareness."
Matt Bellamy: "Happy 100th birthday to all at Action on Hearing Loss. I'm also celebrating today, as I turn 33. Keep up the good work with improving the lives of millions of people who are deaf or hard of hearing."
Cilla Black: "Happy Birthday! I'm delighted that you've reached 100 years, and here's to the next 100 of supporting the deaf and hard of hearing community!"
Evelyn Glennie: "In 100 years, Action on Hearing Loss has made great advances in helping to improve the quality of life for deaf and hard of hearing people. Let it long may continue under Action on Hearing Loss so that we can live in a world where every person has the same access to opportunities in life. Happy birthday!"
Jedward: "We think it's really cool that Action on Hearing Loss is turning 100 years old today. We just want to say we love the work they do raising deaf awareness, so we hope they keep doing it for a long time!"
KT Tunstall: "Happy Birthday Action on Hearing Loss. Congratulations on your centenary and thank you for helping raise deaf awareness! I'm a proud supporter of Action on Hearing Loss as my hearing is so important to me personally and professionally. I'm aware of the barriers that exist for some deaf and hard of hearing people as my younger brother was born profoundly deaf. Let's break these barriers down together!"
Boy George: "I know so many of my peers in the music industry who've lost some of their hearing or suffer from terrible tinnitus because they haven't looked after their hearing. That's why I really support all the work Action on Hearing Loss do in helping to educate people to love their ears! Happy 100th birthday, you deserve to celebrate!"
To find out more about this fantastic charity, click here.