Fans of NASCAR champion Jeff Gordon listen up – you can bid on a one-of-a-kind Oscar de la Renta gown from the Spring 2011 Ready-to-Wear Collection, worn by Jeff's wife, model/actress Ingrid Vandebosch.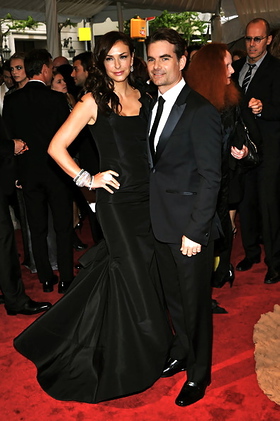 Vandebosch chose this gown for the annual 2011 Metropolitan Museum of Art Costume Institute Gala. Proceeds from this auction will benefit the research and treatment of childhood cancer initiatives through the work of The Promise Circle, a fund of the Jeff Gordon Children's Foundation. Ms. Vandebosch is a founding and active member of The Promise Circle.
Vandebosch has been featured in magazines such as Vogue, Marie Claire, Bazaar and Sports Illustrated. She has also worked on campaigns for L'Oreal, Chanel, Christian Dior, Cartier and Revlon.
The mission of the Jeff Gordon Children's Foundation is to support children battling cancer by funding programs that improve patients' quality of life, treatment programs that increase survivorship and pediatric medical research dedicated to finding a cure.
The auction runs until Tuesday, June 28, and can be accessed via CharityBuzz.com.