Newly appointed National Geographic Explorers-in-Residence filmmaker James Cameron was one of the guests present to watch singer Jack Johnson receive his "Arts Ambassador for the Environment Award" at the first ever National Geographic Evening of Exploration gala on Thursday.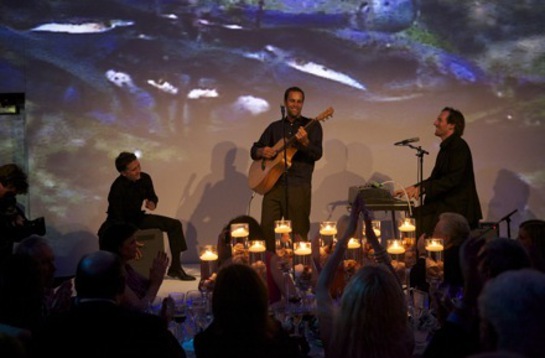 Environmental anthropologist Kenny Broad and the late underwater photographer Wes Skiles were named "Explorers of the Year". The National Geographic "Chairman's Award" was presented to IBM for significantly advancing knowledge of the world through its research partnership with National Geographic on the Genographic Project, which is mapping the migratory history of humans.
"Those recognized last night set the gold standard in exploration, and their passion inspires all of us to care about the planet," said John Fahey, National Geographic's chairman and CEO. "It was a privilege to come together to acknowledge these explorers' many contributions — to our organization, certainly, but ultimately to mankind."
Jack Johnson grew up surfing and playing guitar on the North Shore of Oahu. He released his first album, "Brushfire Fairytales," in 2001 and in the last 10 years has released five more albums that have sold over 20 million copies worldwide. With his success, Johnson has always tried to take the spotlight and shine it on issues important to him. In 2003, Johnson and his wife, Kim, founded the Kokua Hawaii Foundation and Kokua Festival to support environmental education in Hawaii's schools and communities. Johnson, his Brushfire Records label and his touring crew have been leaders in the greening of the music industry in all areas of tour production and album packaging. In 2008, Johnson donated 100 percent of his tour profits to establish the Johnson Ohana Charitable Foundation, an endowment founded by Jack and Kim Johnson to support environmental, art and music education worldwide. One hundred percent of Johnson's current "To The Sea" tour profits also will be donated to charity. Tour profits, along with Johnson's personal charitable activities, have resulted in approximately $25 million donated to charity since 2001.
Johnson and his crew have taken many greening measures to minimize the environmental impacts of the 2010 "To The Sea" tour. These include reducing the use of single-use plastic bottles on tour and on stage, encouraging concert-goers to fill up reusable water bottles for free at water stations at every venue, and working to make the shows zero-waste events through recycling, composting and other means. Over the course of the tour, Johnson is collaborating with over 220 community groups focusing on plastic-free initiatives and sustainable local food systems, as well as environmental education, oceans and watersheds, tree planting and other hands-on community projects. Through his ongoing efforts to promote sustainability and to lead by example, Johnson has exemplified National Geographic's commitment to inspiring people to care about the planet.
The "Evening of Exploration" was the culmination of the two-day National Geographic 2011 Explorers Symposium, an annual event at which National Geographic Explorers-in-Residence, Fellows, Emerging Explorers, grantees and others affiliated with National Geographic gather to share findings of their research and fieldwork and take part in panel discussions.
Photo: Mark Thiessen via JackJohnsonMusic.com.