Mary Tyler Moore and Bernadette Peters will return as hosts of the star-studded 13th Broadway Barks dog and cat adopt-a-thon benefiting New York City animal shelters and adoption agencies this weekend.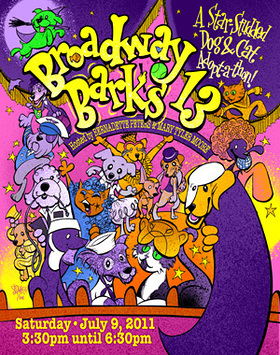 The event, produced by Broadway Cares/Equity Fights AIDS, will again take place in Shubert Alley with festivities beginning on July 9 at 3:30 pm and celebrity presentations of pets from citywide animal shelters beginning at 5:30 pm.
Broadway Barks 13 will help many of New York City's shelter animals find permanent homes by informing New Yorkers about the plight of the thousands of "homeless" dogs and cats in the metropolitan area.
A number of celebrities are scheduled to lend a hand in the presentation of adoptable pets from citywide shelters, including Bebe Neuwirth.
Broadway Barks, hosted by founders Mary Tyler Moore and Bernadette Peters, will feature a sampling of adoptable pets from a number of charities and shelters, including the ASPCA and the Humane Society of New York. Representatives from these organizations will be on hand to offer educational information on spaying and neutering.
The event is free. Funds raised from a raffle, silent auction, signed memorabilia sales and donations are distributed to the participating shelters and rescue groups and to the Picasso Veterinary Fund, which is administered by the Mayor's Alliance for NYC's Animals and provides grants to shelters and rescue groups to cover extraordinary veterinary costs.
Last year's Broadway Barks attracted more than 7,500 theatre fans, pet owners, animal lovers and Broadway stars from the hit shows of the season. The event featured the participation of more than 27 animal shelters from the New York City area, which led to a total of more than 200 adoptions. The event is always popular, attracting a plethora of animal loving stars.
More information can be found here.