Unique works of art created by 100 celebrities will be auctioned by author Jeffrey Archer on the 15th September at the Drawn…to Darfur Celebrity Charity Art Auction in London to help the forgotten children of Darfur.
Lord Archer offered to help when he heard that nearly 100 celebrities – including His Holiness Pope Benedict XVI, Prince Charles, Prime Minister David Cameron, Melvyn Bragg, Martin Clunes, Rolf Harris, Anne Heche, Eamonn Holmes, Kelly Holmes, Ken Howard, Robert Lindsay, Julian Lloyd-Webber, Joanna Lumley, Ruth Rendell, Cliff Richard, Prunella Scales, Chris Tarrant and many more – have been drawing for Darfur as part of UK based charity Kids for Kids' 10th Birthday celebrations.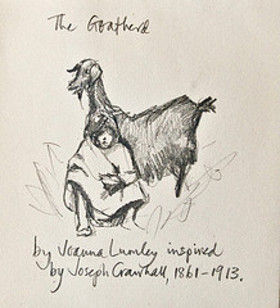 Joanna Lumley's artwork
Famous faces are all saying that 'they care' about the appalling conditions which children face in the villages of Darfur. Drawn…to Darfur is a fascinating collection of intimate, amusing, delightful and touching pictures by some of our best known and loved celebrities. Some, by famous artists, are worth several thousands of pounds! Ken Howard RA who has donated a delightful oil study of Venice said "he hoped it would provide a midwife in a village!"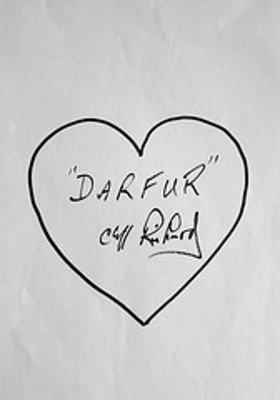 Cliff Richard's artwork
Kids for Kids has been helping children in Darfur since 2001 when the lonely seven hour walk of a little 9 year old inspired Patricia Parker MBE to ask her friends if they could help. There are now 59 Kids for Kids' villages where children are thriving. "There is a miracle going on in Darfur" said Patricia "families from the camps are asking to settle in our villages as they know their children will have a chance. Celebrities want to give them this chance. Buying a picture by your favourite person could not only be a good investment but means you will also transform the life of a child!"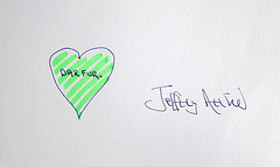 Jeffrey Archer's artwork
A selection of the pictures by celebrities has been produced as a limited edition book "Drawn…to Darfur" which includes fascinating biographies and pictures of the celebrities. The celebrity pictures will be auctioned by Lord Archer at Seaford House in Belgrave Square, one of the grandest surviving aristocratic mansions in London, at the invitation of the Commandant of the Royal College of Defence Studies.
The only opportunity to see the entire collection before the Auction on 15th September will be at a Private View at the Chris Beetles' Gallery, Ryder Street, St James, on 31st August. There are so many pictures that some will be available by silent auction. Bids for all artworks can be submitted now by sending an email to patricia@kidsforkids.org.uk with your name, address & telephone number.
Find out more here.