More than 285 guests climbed into the driver's seat and shifted into high gear with Patrick Warburton at the American Cancer Society's Bugatti Ball on August 6, 2011 at Mullin Automotive Museum in Oxnard.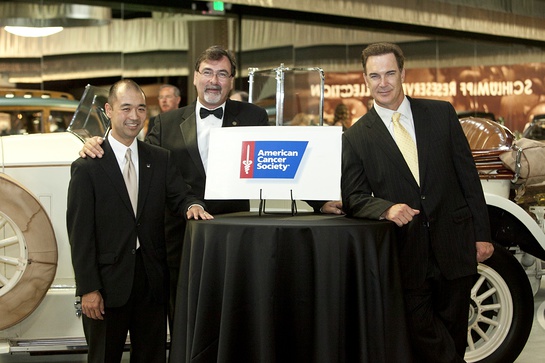 A Santa Rosa resident, Warburton, of "Rules of Engagement" and "Seinfeld" fame, emceed the event. Curator Andrew Reilly led private museum tours prior to the formal dinner by celebrity caterer The Kitchen For Exploring Foods. The evening included live entertainment by Round Trip and vocalist Marcella Detroit and an engine-revving auction. Guests also enjoyed hors d'oeuvres, cocktails and a silent auction.
The event – chaired by Rosemary Allison and Thousand Oaks Mayor Pro Tem Jaqui Irwin – raised $220,000 for the Society's lifesaving research, education, prevention and free programs and services to Ventura County cancer patients, their caregivers and families.
The Bugatti Ball was sponsored by the local automotive professionals group "Wheels For a Cure," honored Ventura oncologist/radiologist Thomas Fogel, MD, a 25-year ACS volunteer and former board member for the Society's California Division, who has tirelessly furthered the Society's mission of reducing the cancer burden in Ventura County.
The American Cancer Society combines an unyielding passion with nearly a century of experience to save lives and end suffering from cancer. As a global grassroots force of more than three million volunteers, they fight for every birthday threatened by every cancer in every community. They save lives by helping people stay well by preventing cancer or detecting it early; helping people get well by being there for them during and after a cancer diagnosis; by finding cures through investment in groundbreaking discovery; and by fighting back by rallying lawmakers to pass laws to defeat cancer and by rallying communities worldwide to join the fight. As the nation's largest non-governmental investor in cancer research, contributing more than $3.4 billion, they turn what they know about cancer into what they do. As a result, more than 11 million people in America who have had cancer and countless more who have avoided it will be celebrating birthdays this year. To learn more or to get help, call them any time, day or night, at 1-800-227-2345 or visit cancer.org.